Wondering If It's Herpes? Here's How You Can Get Treated.
Life With Herpes
https://youtu.be/MsOHGQfjvi8 Hi guys! I'm as always excited to be here with you. Today I've discovered a great solution for us!!! Get ready to get excited! The moment we think we have herpes we begin to panic. Rember what that's like? I sure do. We either feel something down there, or feel like the flu is coming on, or worse we see something. The next thing that happens is the "oh $h*t" moment! We usually know it's herpes but we're in total denial. The number one thing we want to do is keep this a secret. We don't want to go through the embarrassment of people finding out. The fear of embarrassment can even keep us from calling our doctor or the local health clinic to get a proper diagnosis. This fear is so serious that it will stop us in our tracks. This is a huge problem because we need a diagnosis in order to get antiviral! Or another scenario that happens is when you know somethings not right down there and you need to get in ASAP! I mean you're in pain and you want answers and a prescription ASAP! Have you ever called your doctors' office and had the response of, "oh we can fit you in a week from Wednesday." WTF!!!??? That's not going to work either.    So here's the deal. Herpalert is an online resource for us to quickly and confidentially connect with a doctor! This is HUGE! And this is super easy because we can do it right from our phone or computer. Here's how Herpalert works.  So when you have the oh $h*t moment and think you have herpes the fastest way to get a diagnosis and your prescription filled is to head over to herpalert.com. Oh, and our community get's a sweet discount on the service so use the promo code: lifewithherpes.  In the video, I walk you through step by step on filling out the online application. Seriously, it takes like 2 minutes. Way easier than heading down to your general practitioner.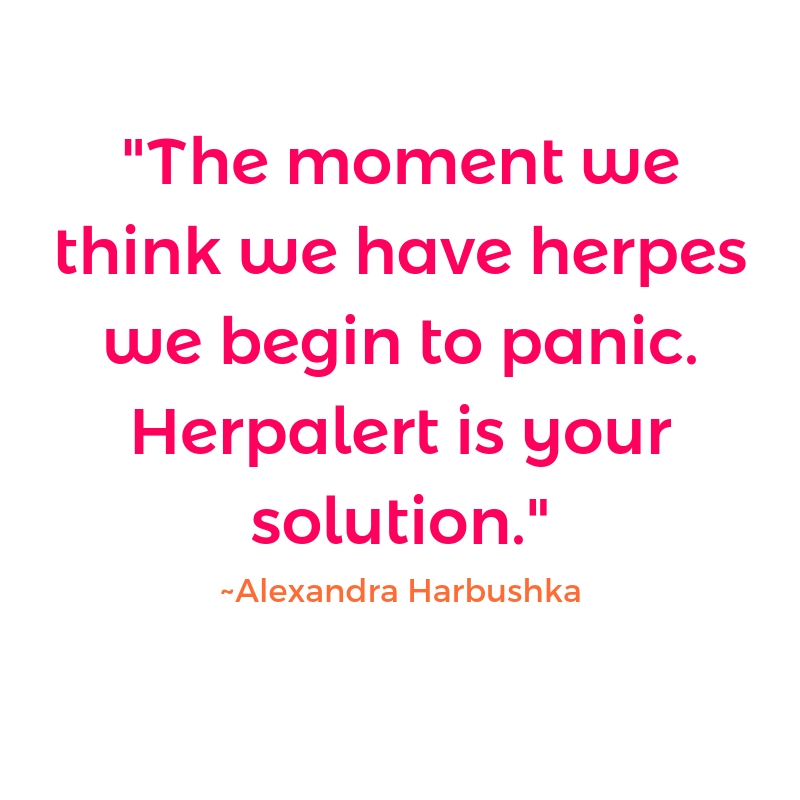 If you're diagnosed with herpes it's very important that you get on the antiviral ASAP. The sooner you get the medicine in your body the sooner you'll start feeling better. I can very vividly remember how bad I felt when I was diagnosed and as soon as I got the antiviral in my system I could start feeling the infection healing. Herpalert allows you to upload your photo of your outbreak and if you're diagnosed with herpes then fill your prescription and it'll be at your pharmacy within an hour. Pretty cool, right? Just to give you another rundown about how streamlined Herpalert is here's how it works. You head to the website, fill out your signs and symptoms, pick your pharmacy, upload your photo, pay at the checkout and then you receive secure information regarding your diagnosis from one of the Herpalert doctors. And boom...your prescription is at your pharmacy of choice and ready for you. This cuts out the embarrassment of sitting at the doctors' office or waiting for your appointment a week from Wednesday. On a personal note, the reason why I love Herpalert as a resource for our Life With Herpes community is they are aligned with our mission. In fact, it's the same focus, Herpalert wants to break the herpes stigma too. They are dedicated to removing the stigma and lessening outbreaks so that you and I can get back to our normal lives. They believe and so do I that there's no reason to suffer or be in pain. The antiviral can lessen the outbreak from three weeks to just a matter of days. I mean, why would you want to sit in pain for three weeks? Ok so watch the video to learn more about Herpalert. If you're ready to make your appointment go here and make sure you use the promo code: lifewithherpes to receive a discount on your appointment. Big Hugs, Alexandra  
Here's How I Can Support
Join our Life With Herpes Secret Society - //subscription-membership-sp/ Herpes Outbreak Toolkit - //herpes-outbreak-toolkit Emergency Call - //emergencycall/
Keep in touch with Alexandra Harbushka
www.lifewithherpes.com www.instagram.com/alexandraharbushka www.facebook.com/lifewithherpespodcast   www.pinterest.com/lifewithherpes
Join The Live With Herpes Community
If you are ready to join a community of people who are living with herpes also then you will want to join our slack group. It is FREE and it is a great way to find the support and comfort that you are looking for. Head on over to www.lifewithherpes.com and join our community. See you in there.
Ways You Can Support The Life With Herpes Show
If you enjoyed this episode as much as we enjoyed making it for you than a subscribe would be a great idea. Are you a YouTuber? Go ahead and subscribe to the show. It is a way to pay it forward to fellow friends who are living with herpes. When you subscribe it helps the algorithm in YouTube and it helps promote the show. If you are worried about your identity and your friends finding out you subscribed to a herpes channel then change your settings to private. And trust me I totally get it and would want to keep it a secret. Also, when you subscribe you will be notified in your inbox when a new episode is out or when Alexandra is live on Youtube Live. Subscribe Here Are you a podcast listener? Please give the Life With Herpes show a review. It is a way to pay it forward to fellow friends who are living with herpes. You can Subscribe, Rate and Review the show through your iTunes app or on the desktop. Seriously, it helps out a lot more than it is a hassle for you. You see, iTunes has an algorithm that organically promotes the show, so the more ratings and reviews the Life With Herpes Show receives then the higher it gets ranked. This is your way of paying it forward and helping someone find the show who really needs it. Oh, and you can totally use a fake name, so don't worry about a friend finding you in the iTunes review. Talking about herpes needs to be spread as far and wide as possible. You are totally a part of this movement so THANK YOU!   Subscribe, Rate and Review [podcast src="https://html5-player.libsyn.com/embed/episode/id/7817540/height/360/theme/standard-mini/thumbnail/yes/preload/no/direction/forward/" height="360" width="100%" placement="bottom" theme="mini"]