074: #AskAlexandra What is the link between genital herpes and HIV?
Ask, Answer And Get The Facts About Herpes
Life With Herpes
Welcome to today's episode on Life With Herpes. As always, thank you for joining me and spending your time watching/listening/and or reading.  I take some time to let you know what is going on in my life. I actually have moved to Las Vegas so if you are watching this you get to see my new kitchen. Thanks for baring with me as I figure out the acoustics, angels and the best location for recording
Today I go a little off track and talk about HIV and the link between HIV and herpes. I do want you to know that I am not an expert when it comes to talking about HIV but I want to make sure you are educated on this to prevent yourself from becoming infected or from infecting a partner.
What is HIV? HIV stands for
human immunodeficiency virus and it
weakens the infected person's immune system and eventually killing them. When the HIV scare first came out it was an automatic death sentence but now has technology has progressed and we have more knowledge regarding the virus there is a treatment for this. I mean look at Magic Johnson! HIV is spread through bodily fluids such as;
blood, semen, pre-seminal fluids, rectal fluids, vaginal fluids, and breast milk. In other words, having unprotected sex with an HIV + partner can infect you with the virus.
Here is the link between HIV and herpes and why I wanted to bring it to your attention. As you and I know,
genital herpes can cause sores or papercuts like breaks in the skin or on mouth, vagina, and rectum. The genital sores caused by herpes can bleed easily as well as they are open areas for other viruses or bacteria to get in. When the sores come into contact with the mouth, vagina, or rectum during sex, they increase the risk of giving or getting HIV if you or your partner has HIV. So in other words having a herpes outbreak can make you more susceptible to contracting other viruses such as HIV.
Make sure you use protection such as a latex condom as well has have a conversation with your partner when it comes to your sexual health.
For more information on HIV please visit these websites: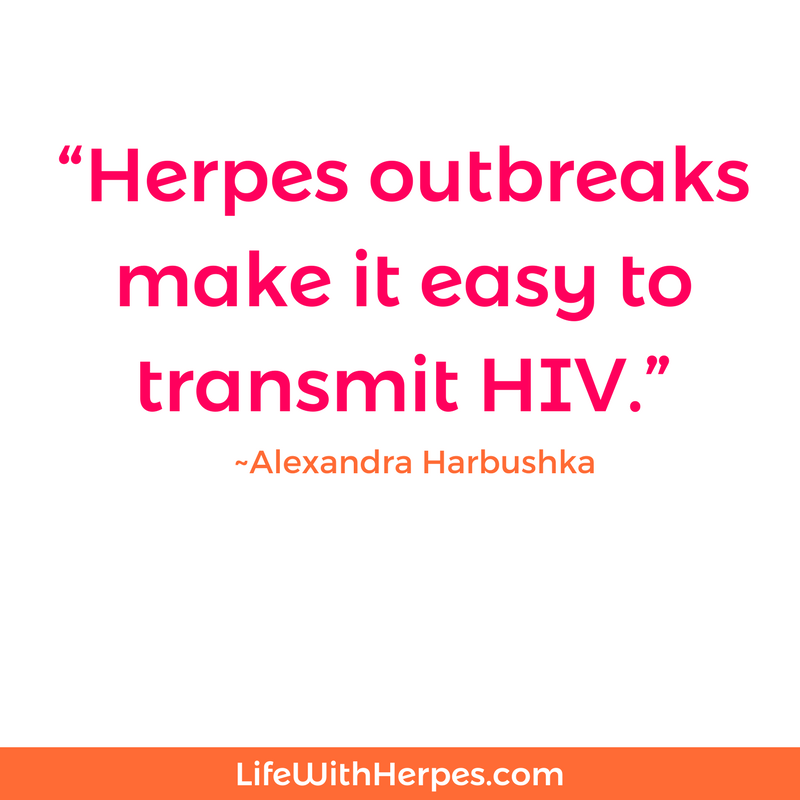 Keep in touch with Alexandra Harbushka
www.lifewithherpes.com
www.instagram.com/alexandraharbushka
www.facebook.com/lifewithherpespodcast
www.pinterest.com/lifewithherpes
Join the community
If you are ready to join a community of people who are living with herpes also then you will want to join our slack group. It is FREE and it is a great way to find the support and comfort that you are looking for. Head on over to
www.lifewithherpes.com
and join our community. You will receive a slack invitation as soon as you sign up. See you in there.
Ways you can support the Life With Herpes show
And if you enjoyed listening to this episode as much as we enjoyed making it for you, please give the Life With Herpes show a review. It is a way to pay it forward to fellow friends who are living with herpes. You can Subscribe, Rate and Review the show through your iTunes app or on the desktop. Seriously, it helps out a lot more than it is a hassle for you. You see, iTunes has an algorithm that organically promotes the show, so the more ratings and reviews the Life With Herpes Show receives then the higher it gets ranked. This is your way of paying it forward and helping someone find the show who really needs it. Oh, and you can totally use a fake name, so don't worry about a friend finding you in the iTunes review. Talking about herpes needs to be spread as far and wide as possible. You are totally a part of this movement so THANK YOU!  
Subscribe, Rate and Review
More Episode Resources
herpes medication, herpes, herpes on lip, herpes zoster, herpes virus, herpes ulcer, herpes symptoms, herpes rash, herpes blisters, herpes treatment, herpes research, herpes outbreak, herpes kissing, herpes genital, genital herpes, herpes blood test,
 [podcast src="https://html5-player.libsyn.com/embed/episode/id/6233868/height/360/width/450/theme/standard-mini/autonext/no/thumbnail/yes/autoplay/no/preload/no/no_addthis/no/direction/forward/" height="360" width="450" placement="bottom" theme="mini"]