072: Herpes and Hope with Alexandra Harbushka
Sex Trafficking, Your gift, and Hope
Life With Herpes
Welcome to our episode today, I am always thrilled to be here with you. Thank you for joining me. Like I always say, I know herpes is something we didn't want to discuss but now we have to so I am glad we are here together.
Today's episode is a little different, I don't talk about religion or other controversial topics like politics because that would be a completely different podcast and at the end of the day like it or not we are here to talk about herpes. So if this is your first introduction to the Life With Herpes podcast, website and community just know today's is a different episode. Today we are going to talk about human sex trafficking and hope. I attended a tea party today because my mom could not attend and she wanted me to attend to say hello to her friends so I gladly went. I didn't know too much about what the tea party was all about other than it was a Christmas Tea party and the guest of honor was the former San Diego Chargers now the Los Angeles Chargers quarterback, Philip Rivers' wife, Tiffany.  So as I arrive at the party I am greeted by Catholic fathers and some nuns. Again I didn't know that one of the local Catholic parishes was going to be there. As the party continues one of the Fathers and the Sisters began to talk about human trafficking and specifically sex trafficking.
In case you are not aware of what is happening with sex trafficking, San Diego is the hub for sex trafficking. To give you a little background from the
San Diego Union-Tribune,  
The San Diego District Attorney's Office has concluded that there are at least 8,000 victims in San Diego alone. This industry is so widespread that it brings in more than $810 million annually, making it the second-largest underground economy in San Diego. So, in other words, this is a huge problem worldwide but especially in San Diego. The girls that are targeted are usually between the ages of 15 - 17 and typically come from a divorced home or a single parent home. These girls are usually the ones that are lonely and the pimp poses to become her doting boyfriend. I talk more about it in the podcast and you can do some google research to learn more.
Anyway back to the tea party and the podcast but I wanted to give you a quick background on sex trafficking. As the event went on one of the Sisters, Sister Grace, went on to tell a story about Saint Bakhita. I recommend you do a google search on her as well if you want to know all of the details of her life but here is the quick version. She was born a to a warm and loving family and as a young girl, she was kidnapped by slave traders where she was beaten, battered, whipped, chained and traded her life was quickly changed. At one point she was traded to a kind family who was moving to Italy and the begged to join them. So as her story continues she moves to Italy with this family and is taking their daughter to school. I am not sure if Bakhita is actually attending the school with her or if she is just escorting the child to the school. But the school is a Catholic school. And by attending the school Bakhita is able to be introduced to Jesus, Christianity, and her faith. It was there that she found hope and was able to transform her life. She then went on to become a nun and was then granted sainthood.
Later in her life, a
young student once asked Bakhita
, "What would you do, if you were to meet your captors?" Without hesitation, she responded: "If I were to meet those who kidnapped me, and even those who tortured me, I would kneel and kiss their hands. For, if these things had not happened, I would not have been a Christian and a religious today".
Coming full circle and talking about our diagnosis of herpes. I know the hurt. I know the frustration. I know the why me. I know the why can't it be someone else. I know the why do we have to deal with this. I know the anger. I know the embarrassment. I know the feeling of being a leper. I know the feeling of being pissed off. I know the feeling alone. And the feelings continue. Based on the story of Saint Bakhita and how she was able to forgive and look at her abuse as a gift and how she was able to realize that had she not been beaten, chained, and whipped she would have never found her calling of becoming a nun. I believe that herpes is my gift. I believe that because of having herpes I can be the voice and be here to support you and others who are living with herpes. My question to you is what is your gift?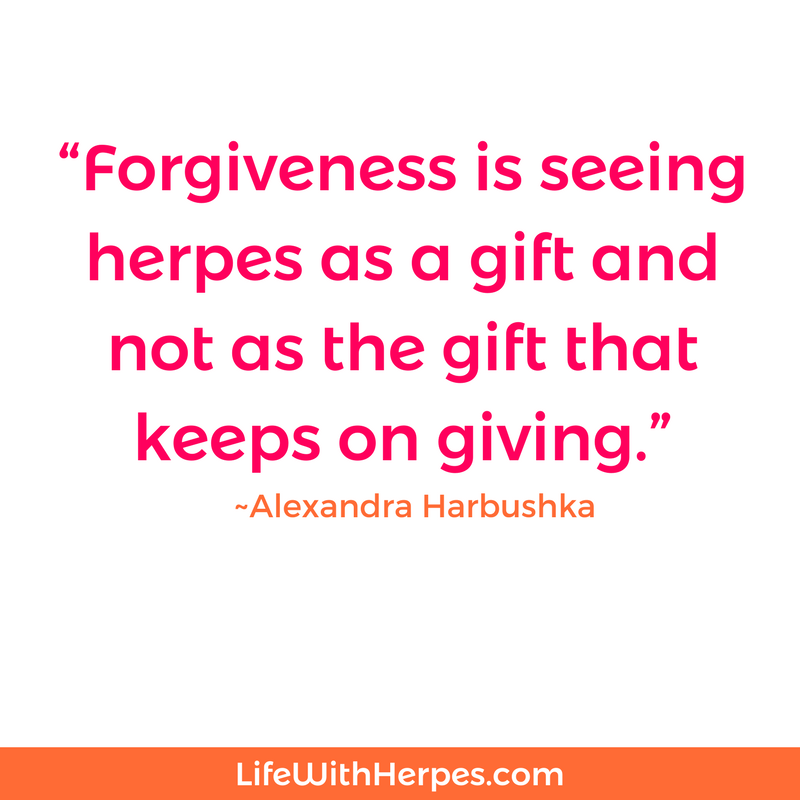 Keep in touch with Alexandra Harbushka
www.lifewithherpes.com
www.instagram.com/alexandraharbushka
www.facebook.com/lifewithherpespodcast
www.pinterest.com/lifewithherpes
Join the community
If you are ready to join a community of people who are living with herpes also then you will want to join our slack group. It is FREE and it is a great way to find the support and comfort that you are looking for. Head on over to
www.lifewithherpes.com
and join our community. You will receive a slack invitation as soon as you sign up. See you in there.
Ways you can support the Life With Herpes show
And if you enjoyed listening to this episode as much as we enjoyed making it for you, please give the Life With Herpes show a review. It is a way to pay it forward to fellow friends who are living with herpes. You can Subscribe, Rate and Review the show through your iTunes app or on the desktop. Seriously, it helps out a lot more than it is a hassle for you. You see, iTunes has an algorithm that organically promotes the show, so the more ratings and reviews the Life With Herpes Show receives then the higher it gets ranked. This is your way of paying it forward and helping someone find the show who really needs it. Oh, and you can totally use a fake name, so don't worry about a friend finding you in the iTunes review. Talking about herpes needs to be spread as far and wide as possible. You are totally a part of this movement so THANK YOU!  
Subscribe, Rate and Review
More Episode Resources