064: #AskAlexandra Can I still have sex if I have herpes?
Ask, Answer and Get the Facts About Herpes
[video_player type="youtube" style="1" dimensions="560x315" width="560" height="315" align="center" margin_top="0" margin_bottom="20" ipad_color="black"]aHR0cHM6Ly95b3V0dS5iZS95bW9pejdLcHd0aw==[/video_player]   
Life With Herpes
Welcome to today's episode of Life With Herpes. I am recording this on Halloween so you will hear some trick o treaters, my fiance watching the world series and I am drinking a glass of wine while recording this. So it is a funny and different setting for me to record an episode.
Today's episode is a #AskAlexandra comes from Amanda in Queensbury NY. Her question is, "can I still have sex if I have herpes?" YES...YES….YES! The last thing that I want you to do is to become celibate and live a life punishing yourself or feeling like you are an outcast. Please don't go down that path. If you are feeling that way then please reach out to me.  But with that said, because there is a little virus you need to take some precautions and have some conversations. Having these conversations is really positive.  It requires you to get familiar with your body and communicate with your partner. It requires you to say hey I feel like I have an outbreak coming on maybe we should get creative.
The best ways to protect passing herpes to your partner is using a condom and taking the anti-viral. This is not 100% in preventing the virus from being passed but it will lessen your chances.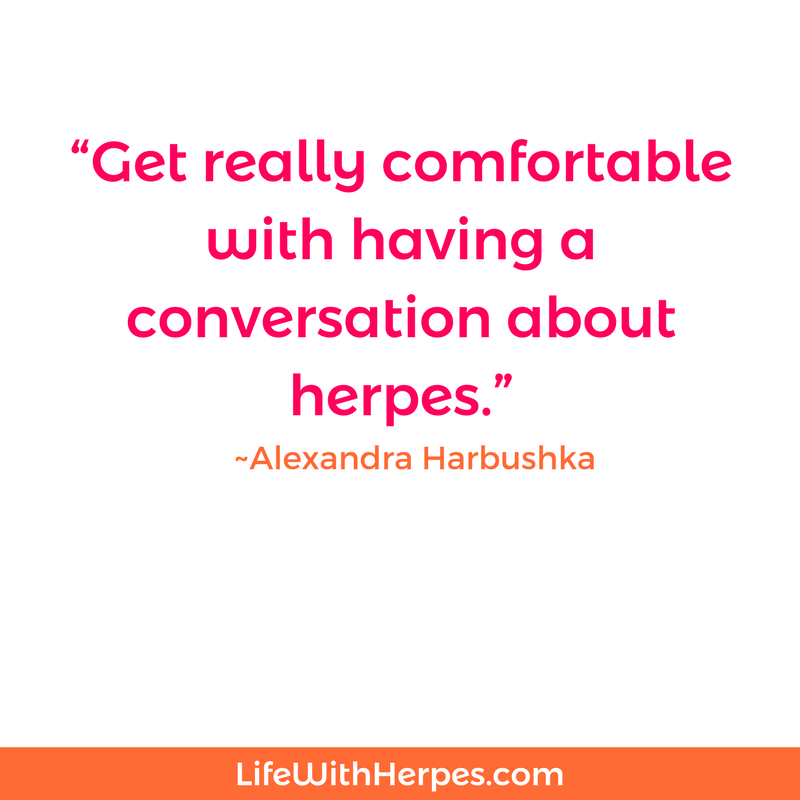 Keep in touch with Alexandra Harbushka
www.lifewithherpes.com
www.instagram.com/alexandraharbushka
(ps. I am starting to share photos from my wedding)
www.facebook.com/lifewithherpespodcast
www.pinterest.com/lifewithherpes
Join the community
If you are ready to join a community of people who are living with herpes also then you will want to join our slack group. It is FREE and it is a great way to find the support and comfort that you are looking for. Head on over to
www.lifewithherpes.com
and join our community. You will receive a slack invitation as soon as you sign up. See you in there.
Ways you can support the Life With Herpes show
And if you enjoyed listening to this episode as much as we enjoyed making it for you, please give the Life With Herpes show a review. It is a way to pay it forward to fellow friends who are living with herpes. You can Subscribe, Rate and Review the show through your iTunes app or on the desktop. Seriously, it helps out a lot more than it is a hassle for you. You see, iTunes has an algorithm that organically promotes the show, so the more ratings, and reviews the Life With Herpes Show receives then the higher it gets ranked. This is your way of paying it forward and helping someone find the show who really needs it. Oh, and you can totally use a fake name, so don't worry about a friend finding you in the iTunes review. Talking about herpes needs to be spread as far and wide as possible. You are totally a part of this movement so THANK YOU!
Subscribe, Rate and Review
More Episode Resources
How can I help you? Tell me in a free 15 minute chat!
The Herpes Crisis Toolkit
(use the promo code PODCAST)
Join The Life With Herpes Community
Life With Herpes YouTube channel
DoTerra's essential oils