042: Why You Need to Put Your Oxygen Mask on First with Alexandra Harbushka
Self-Love, Suffocation and Selfishness
[podcast src="https://html5-player.libsyn.com/embed/episode/id/5689002/height/360/width/450/theme/standard-mini/autonext/no/thumbnail/yes/autoplay/no/preload/no/no_addthis/no/direction/forward/" height="360" width="450"]
[video_player type="youtube" style="1" dimensions="560x315" width="560" height="315" align="center" margin_top="0" margin_bottom="20" ipad_color="black"]aHR0cHM6Ly95b3V0dS5iZS9YOUhTSXAwT2hUdw==[/video_player]
Life With Herpes Podcast
Welcome to episode 41 of Life With Herpes, and thank you for being here with me! As always, I'm excited to have you join me for today's show.
The idea for this particular episode is from a conversation I overheard when I was at Whole Foods the other day. Someone was telling someone else: "You have to put your oxygen mask on first."
Immediately I knew I wanted to record a show for you about this so that's what I did. Listen in to hear the connection to herpes on the 41st edition of Life With Herpes.
More About Life With Herpes
When I overheard the oxygen mask conversation at Whole Foods, I told myself as soon as I got home and put my groceries away, I was going to record an episode about it and how it relates to herpes.
As you know when you are flying the flight attendant gives safety instructions. Part of those instructions explain that if the oxygen levels in the cabin changes, then oxygen masks will drop down for everyone. The flight attendant also always tells you to put your oxygen mask on first, then your child's.
They say this because most people would think no, I have to put my child's on first (or I will do it for whomever else is in dire need).
But let's think about it: you are on an airplane and the oxygen levels drop so you put the masks on your three-year old child. But the oxygen levels have dropped before you can get your mask on, so now you faint or pass out. How is that young child supposed to take care of you? They can't.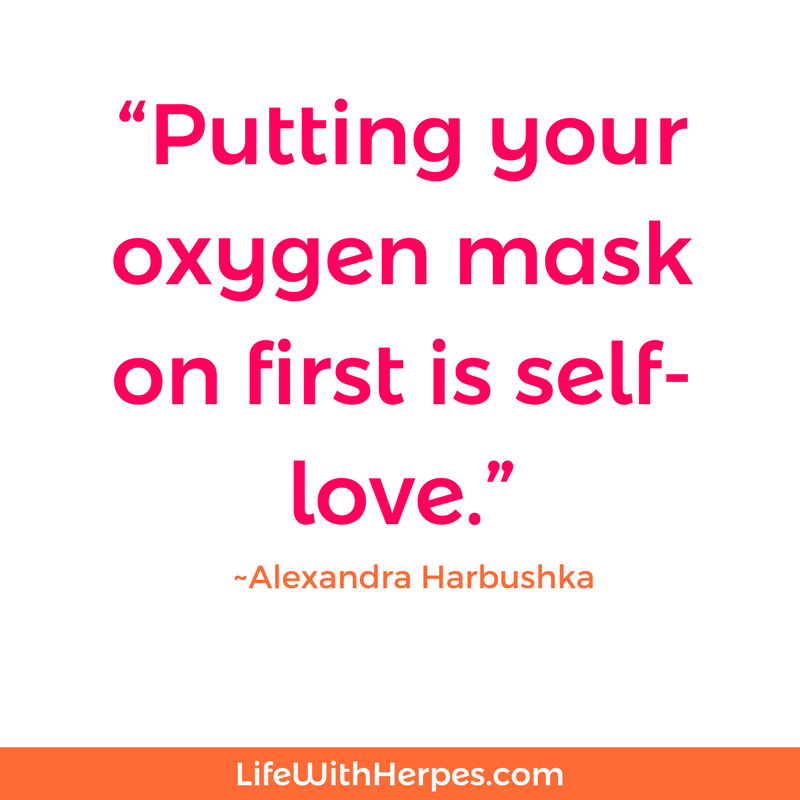 That's the literal meaning of "put your oxygen mask on first", but this can apply to so many phases and areas of life including herpes.
For example: when you find out you have herpes, you go through so many feelings ranging from disbelief to anger to shame/guilt, etc.
But what happens to the partner you're with when you find out you have herpes? Maybe they resent you or make you feel guilty because you passed it on to them, or they are simply in shock because of your diagnosis.
And rather than taking care of yourself first and putting your oxygen mask on first, you rush to take care of them and ignore your own needs. Eventually you run low and cannot take care of yourself, so soon you are depleted and exhausted.
You cannot worry about what is going to happen to your partner, or your relationship or if they have herpes; you cannot do anything about any of those situations. But you can take care of yourself. You were just diagnosed with herpes so you need to put your own oxygen mask on now, and let your partner put his or her mask on themselves.
You can't give all of your oxygen to them and take care of them without your own mask on, otherwise, you will end up suffocated and depleted. You have to nurture your body, and your emotions and give yourself what you need. You need to be able to heal, to cope and care for yourself.
And doing so will help you approach this situation with a clear mind and help you move forward with your partner and with your life.
I really want you to think about this, taking care of yourself first applies to every area of your life, not just herpes. If you aren't taking care of you no one else will. No one will take care of your needs for you - only you can do that for you!
Are there areas of your life where you need to put your own oxygen mask on? Consider it and then let yourself do what you need to do to recharge. If you need to then stay in and take a bubble bath, or take a walk or enjoy a guilty pleasure! It boils down to self-love. Do you need to practice more self-love? Tell me, after you listen to episode 42 of Life With Herpes.
Episode Resources