020: #askalexandra Do The Anti-Viral Drugs Help Reduce Symptoms?
Ask Answer & Get The Facts About Herpes
[podcast src="https://html5-player.libsyn.com/embed/episode/id/5552216/height/360/width/450/theme/standard/autonext/no/thumbnail/yes/autoplay/no/preload/no/no_addthis/no/direction/forward/" height="360" width="450"] 
[video_player type="youtube" style="1" dimensions="560x315" width="560" height="315" align="center" margin_top="0" margin_bottom="20" ipad_color="black"]aHR0cHM6Ly95b3V0dS5iZS91b081YnB1UE5paw==[/video_player] 
Welcome to episode 20 of Life With Herpes! Thanks for being here, this is another fun #AskAlexandra edition dedicated to answering one question from a listener like you. These episodes are so fun for me because it's all about you: I get to hear from you, find out where you're from and what questions you have.
Drew from Newark, New Jersey wrote in today to ask about anti-viral drugs and whether they help reduce symptoms. Ready to hear the answer? Great! Join me on episode 20 of Life With Herpes.
More About Life With Herpes
A big thanks to Drew for writing in about anti-viral drugs. The short answer of whether or not they help reduce symptoms is yes. These medications work very fast and are great at relieving the pain and other aspects of a herpes outbreak.
If you have frequent or severe outbreaks these drugs can be very helpful. My first outbreak was so painful I couldn't wear pants! If you're in that same boat then I recommend getting some anti-viral meds to help you.
If you're wondering whether your outbreaks are frequent or not, it would help to know how often an outbreak happens to be considered frequent. Frequent is between 4 and 6 outbreaks a year, so basically every other month or every three months. If you're having them that frequently (or more often) get on an anti-viral drug!
The anti-viral medications suppress the virus so it relieves the symptoms, and it reduces your chances of spreading the disease (something we'll talk about more later).
I no longer take an anti-viral every day, I did for three or four years because I was scared and didn't want to deal with it. I thought if I took the pill then herpes wouldn't show up! Now I don't want to take a pill every single day, so I don't. But I know I have to be a bit more careful about my diet and my health so I can avoid outbreaks.
Whether you take it daily or not is your personal decision.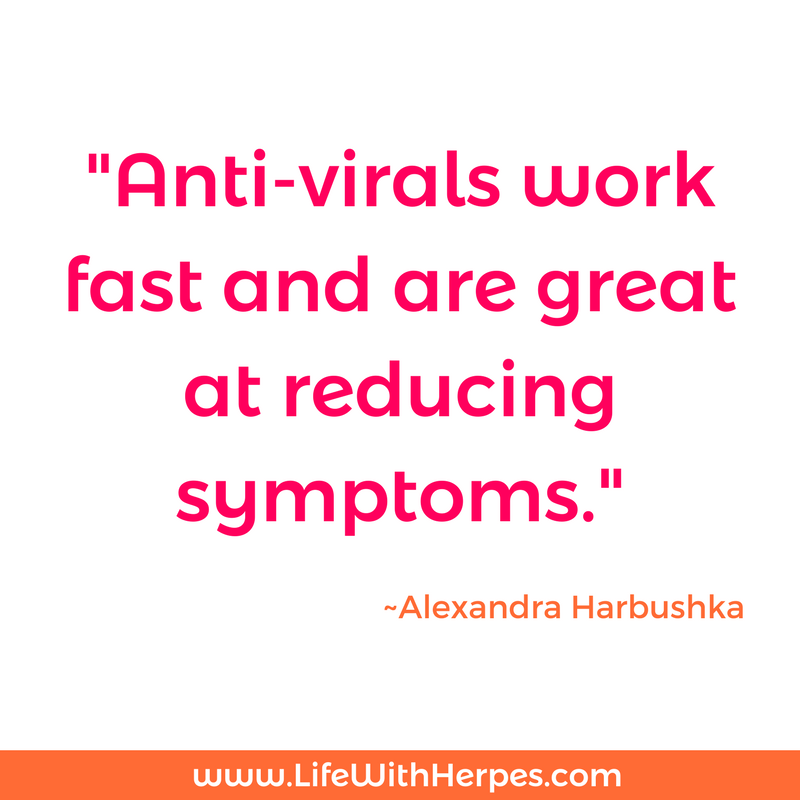 There are multiple anti-viral drugs you can take, including Valtrex and Famvir and their generic counterparts. Valtrex is the original anti-viral drug and its generic version is Valacyclovir. The other anti-viral drug people with herpes take is Famvir, and its generic alternative of Famcyclovir.
Personally, I recommend you talk to your doctor about which is best for you and your lifestyle. Some medications require you take them once a day or twice a day. There's also a difference in cost, insurance coverage, and the like so keep those things in mind.
Also on today's show I explain why an anti-viral medication reduces your chances of spreading herpes but doesn't eliminate it. The drug suppresses the virus so there's less viral shedding opportunities, which means the symptoms don't appear and you won't have an outbreak. And because 70% of transmissions happen when someone is NOT having an outbreak you still have to tell your partner! Tell them you are doing everything you can to prevent passing it on to them through using condoms and anti-viral meds.
Do you have any questions of your own like Drew? If you want to send them to me go to
LifeWithHerpes.com
and scroll down to the bottom where you'll see the #AskAlexandra section and click on that. Fill out the Google form with your question. Remember you can remain anonymous if you want. I only use your first name and your city, but if you want complete anonymity I will do that for you!
Want to join the conversation about this or any other herpes-related topic? Join the secret Facebook group and continue chatting there, after you've listened to episode 20 of Life With Herpes.
Episode Resources