006: #askalexandra: Can You Pass Herpes When You Don't Have an Outbreak?
Ask, Answer & Get the Facts About Herpes
[podcast src="https://html5-player.libsyn.com/embed/episode/id/5425034/height/360/width/450/theme/standard/autonext/no/thumbnail/yes/autoplay/no/preload/no/no_addthis/no/direction/forward/" height="360" width="450"]
[video_player type="youtube" style="1" dimensions="560x315" width="560" height="315" align="center" margin_top="0" margin_bottom="20" ipad_color="black"]aHR0cHM6Ly95b3V0dS5iZS9YU0hYSTRlZGpQWQ==[/video_player] 
Welcome to Life With Herpes, I'm excited you are here! This is another #askalexandra episode where you write in with a question and I answer it. If you want to send your question to go to LifeWithHerpes.com and scroll down to the bottom where you'll see the #askllexandra section and click on that. Fill out the Google form with your question.
Remember you can remain anonymous if you want;. I only use your first name and your city, but if you want complete anonymity I will do that for you!
Today's question comes from Katie in Orlando, Florida who writes in to ask if herpes can be passed on to someone else even if you don't have an outbreak. Check out episode 6 of Life With Herpes to hear the answer!
More About Life With Herpes
Thanks for your great question Katie, the quick answer is yes herpes can be passed on even when you don't have an outbreak. In fact, I think this is how I got it; I think my ex-partner passed it on even when he didn't have an outbreak.
As we know when we have an outbreak blisters pop up and the area is sore and painful. It can take anywhere from a few days to two weeks for the outbreak to go away. And when we first get the virus it pops up within 2 days to 10 days. after that the virus goes dormant, popping up when it wants.
When there is no outbreak your body is doing something called shedding. The virus is in your nervous system and when it is dormant your body wants to shake things off a bit, it wants to shed. At this point you have no symptoms, no outbreak, it's just the virus doing it's thing, and it can be passed on. It's estimated this is when about 70% of transmissions occur, when we are asymptomatic.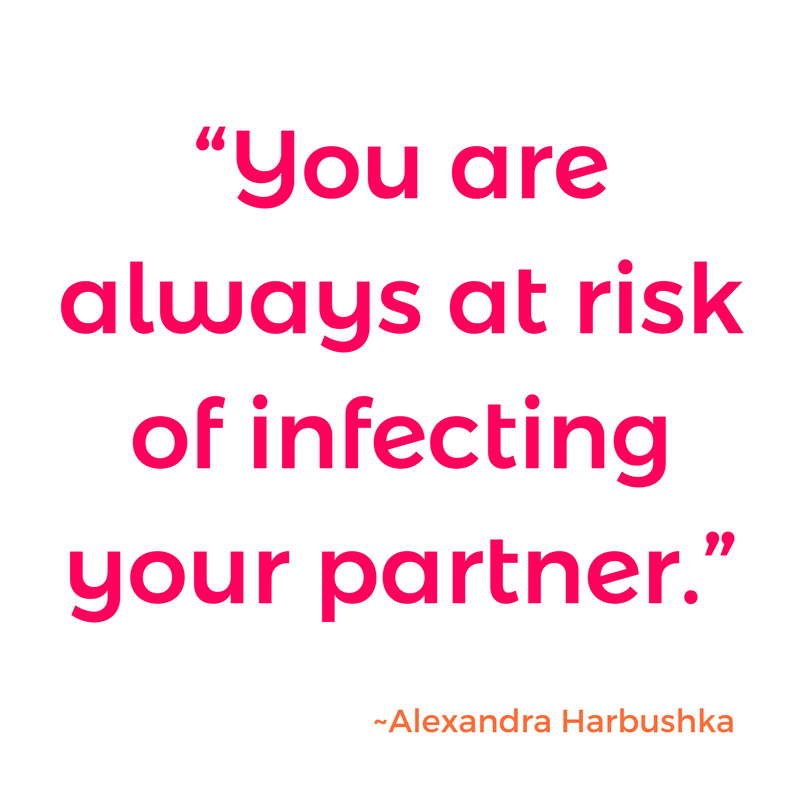 In other words anyone infected with herpes (HSV1 or HSV2) can be passed when you are asymptomatic.
It's important to talk about this because you need to tell your partner, he or she needs to know before you have sex. They need to know even when you don't have an outbreak you can still give them herpes. In an upcoming episode, we'll talk about the numerous ways to protect your partner, including communication.
Big thanks to Katie for that question on today's episode of Life With Herpes.
Episode Resources