069: Sixty-nine and herpes with Alexandra Harbushka
Oral sex and podcasts are not always the best ever
Life With Herpes
Welcome to today's episode of Life With Herpes. As always….thank you for joining me and being here. Like I always say, this is not a topic I wanted to be an expert in but I am and we are here. So today's episode was kind of a huge hiccup. I put so much pressure on myself to make this episode aka episode 069 such a cool episode and play on the words with the sixty-nine but I totally flopped. But as one of my friends brought to my attention...sometimes oral sex is just not all that great and neither is this episode. So bear with me.
I decide to continue to explain what oral sex is and turn to old faithful Wikipedia. Oral sex is an act of having sex so for example there is vaginal sex, anal sex, and oral sex. As I have discussed in many episodes leading up to this but I want to make sure you understand the importance of this is yes, you can get herpes from oral sex. So with that being said, you can get herpes from sixty-nine. Oral sex is often thought of as a "safe alternative" to having sex but you are as at much risk as passing herpes through oral sex as you are with vaginal or anal sex.
With all this being said, I do not want to deter you from having oral sex or enjoying 69 with your partner. I mean, it is pretty cool that you can pleasure each other with your tongue at the same time. What I am saying is take the same precautions you would when having vaginal or anal sex. Which are; Take this as an opportunity to talk with your partner about STD's and STI's, use a latex condom or dental dam, educate yourself on sexual health and get tested. I am assuming that because you are here you are educating yourself on sexual health so I am going to give you a big gold star!
Thanks for tuning in today. Sorry, it was not my best episode, I really put too much into trying to make this episode be really really good.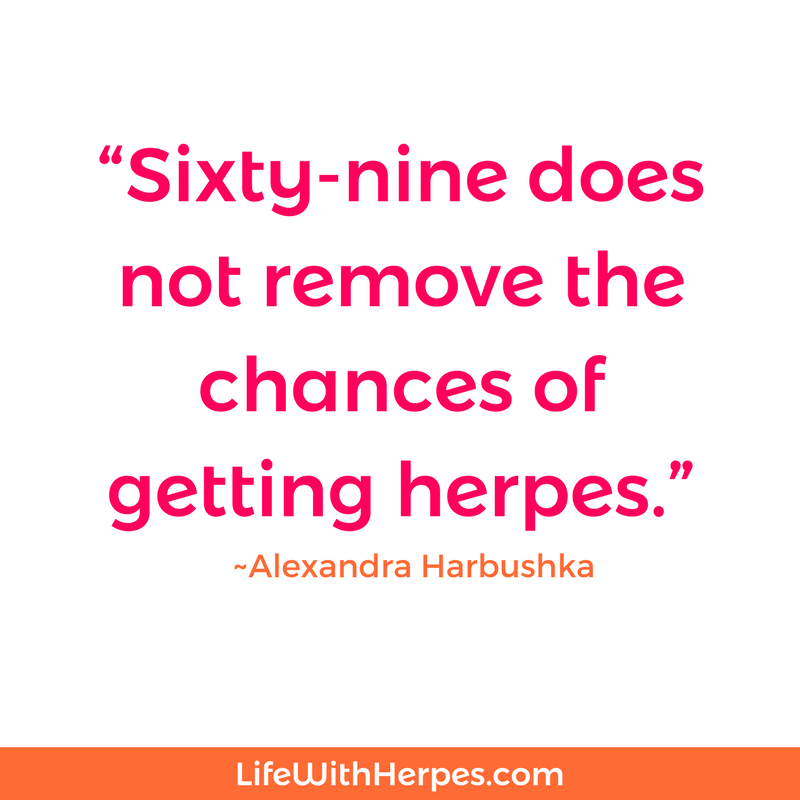 Keep in touch with Alexandra Harbushka
www.lifewithherpes.com
www.instagram.com/alexandraharbushka
www.facebook.com/lifewithherpespodcast
www.pinterest.com/lifewithherpes
Join the community
If you are ready to join a community of people who are living with herpes also then you will want to join our slack group. It is FREE and it is a great way to find the support and comfort that you are looking for. Head on over to
www.lifewithherpes.com
and join our community. You will receive a slack invitation as soon as you sign up. See you in there.
Ways you can support the Life With Herpes show
And if you enjoyed listening to this episode as much as we enjoyed making it for you, please give the Life With Herpes show a review. It is a way to pay it forward to fellow friends who are living with herpes. You can Subscribe, Rate and Review the show through your iTunes app or on the desktop. Seriously, it helps out a lot more than it is a hassle for you. You see, iTunes has an algorithm that organically promotes the show, so the more ratings and reviews the Life With Herpes Show receives then the higher it gets ranked. This is your way of paying it forward and helping someone find the show who really needs it. Oh, and you can totally use a fake name, so don't worry about a friend finding you in the iTunes review. Talking about herpes needs to be spread as far and wide as possible. You are totally a part of this movement so THANK YOU!  
Subscribe, Rate and Review
More Episode Resources
 [podcast src="https://html5-player.libsyn.com/embed/episode/id/6035424/height/360/width/450/theme/standard-mini/autonext/no/thumbnail/yes/autoplay/no/preload/no/no_addthis/no/direction/forward/" height="360" width="450" placement="bottom" theme="mini"]