066: #AskAlexandra Can You Have Herpes If You Have Never Had An Outbreak?
Life With Herpes
[video_player type="youtube" style="1" dimensions="560x315" width="560" height="315" align="center" margin_top="0" margin_bottom="20" ipad_color="black"]aHR0cHM6Ly95b3V0dS5iZS9ZNzh4LUplNXg2bw==[/video_player]
Ask, Answer and Get The Facts About Herpes
Welcome to today's episode of Life With Herpes. I am as always really excited to be here with you. With it being the season of thanks, I really want to thank you for joining me, it warms my heart. And I truly feel blessed to be hear and host this podcast, blog and youtube channel.
Anyway, today's episode comes from Kelly from Seattle. Welcome Kelly and thank you for submitting your question. You ask a great question, "Can You Have Herpes If You Have Never Had An Outbreak?" In other words, you were saying that you have never had an outbreak so therefore you are in the clear. Ok, this is what I thought before I got herpes. But unfortunately, the lack of a visible outbreak does not mean you're herpes free. In fact, many people who are herpes positive never experience an outbreak and according to the
Center for Disease Control and Prevention (CDC)
, 87.4% of infected individuals have no clue. YIKES!
Here's what happens. We commonly and probably convince ourselves that whatever bump, cut or itch we have it is something else and there is no way it is dreaded herpes. I go on to tell a story about being in college and living in the sorority house, you will have to tune it to hear the entire story. But anyways, we decide that the cut is from shaving or the bump is from an ingrown hair or it is jock itch (whatever that is) and we then go on and about with our normal day.
What I don't want to do is scare you. I just want you to be aware. I'm really glad Kelly asked this question. With these statistics and how we commonly misdiagnose our outbreaks I want you to make sure you ask your partner to get tested. Just because he or she says, "I have never had an outbreak" does not mean that he or she is herpes free. And here is the other thing, if you have a bump, itch, scratch or whatever make sure you get tested. Just don't sweep it under the rug.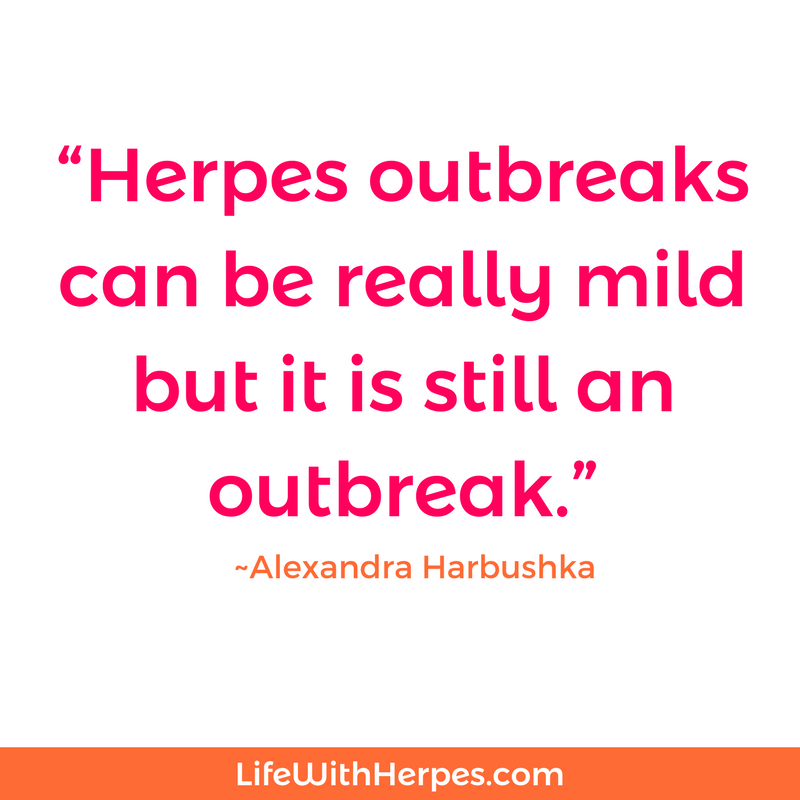 Keep in touch with Alexandra Harbushka
Join the community
If you are ready to join a community of people who are living with herpes also then you will want to join our slack group. It is FREE and it is a great way to find the support and comfort that you are looking for. Head on over to
www.lifewithherpes.com
and join our community. You will receive a slack invitation as soon as you sign up. See you in there.
Ways you can support the Life With Herpes show
And if you enjoyed listening to this episode as much as we enjoyed making it for you, please give the Life With Herpes show a review. It is a way to pay it forward to fellow friends who are living with herpes. You can Subscribe, Rate and Review the show through your iTunes app or on the desktop. Seriously, it helps out a lot more than it is a hassle for you. You see, iTunes has an algorithm that organically promotes the show, so the more ratings, and reviews the Life With Herpes Show receives then the higher it gets ranked. This is your way of paying it forward and helping someone find the show who really needs it. Oh, and you can totally use a fake name, so don't worry about a friend finding you on the iTunes review. Talking about herpes needs to be spread as far and wide as possible. You are totally a part of this movement so THANK YOU!
Subscribe, Rate and Review
More Episode Resources