105: How to prevent herpes outbreaks when you travel with Alexandra Harbushka
https://youtu.be/XrdlJLbR9IY
Life With Herpes
Do you get outbreaks when you travel? For me, it's a pretty much guaranteed. I love to travel and it's one of my passions but what I don't like is waking up the next morning in a new city that I can't wait to explore and feel a herpes blister. It means that I have to pace myself, it means no sex with my husband, it means I'm feeling uncomfortable, it means I can't try clothes on and go shopping, it means a whole lot of things that I don't want to deal with when I on vacay. Do you have this too?
Is vacation a herpes outbreak trigger for you too?
So sorry if its. We're going to fix it right now.
First, let's talk about why outbreaks happen when we're on vacay. So typically when we are on vacation we tend to do a lot of stuff that is different. As much as we might enjoy this and get a thrill out of it our bodies are like...WTF?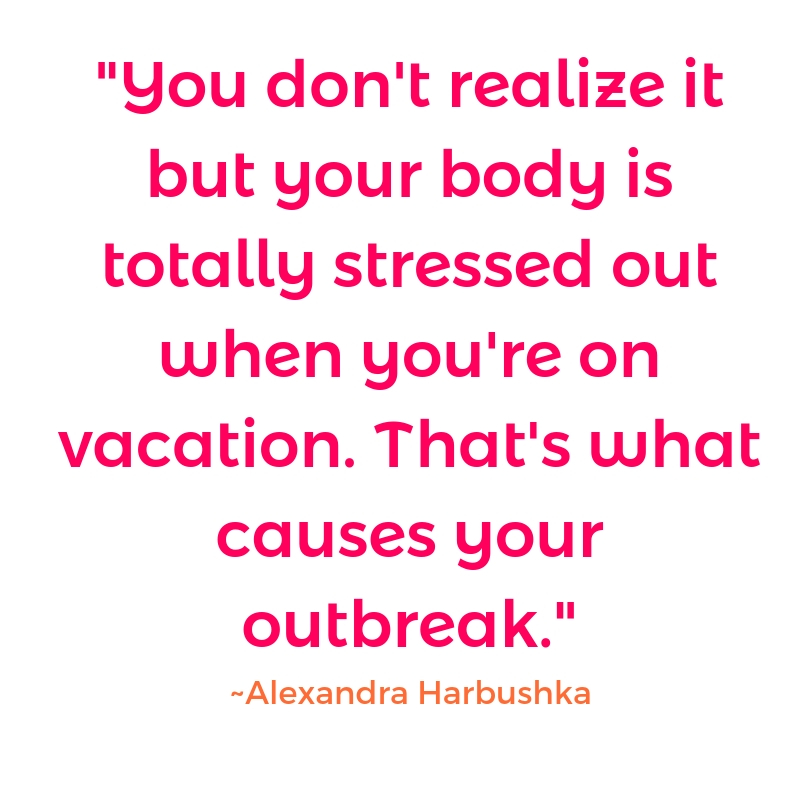 Let's go over what our body goes through on vacation. Well, for starters we stress out the day before and most likely the night before. Have you been guilty of pulling an all-nighter to pack and get everything in order before calling your uber to the airport…#guilty! Ok, then you are already starting your trip off with stress on the body from pulling an all-nighter looking for that one thing you need for your trip or adding a signature to your email or getting your cat food organized for the cat sitter. Whatever it is your body is stress.
Something we don't realize is that travel is really hard on our bodies especially if we are flying. We are lugging are overpacked suitcase through the airport the only thing to eat is over processed food. Think about it...your body is stressed.
Then when arriving at our vacation destination we are exhausted and on cloud 9! Our body pushes for our second or fourth wind as we are full of excitement and are ready to dive in and enjoy.  It doesn't matter if you are going on a relaxing vacation and sitting on the beach or if you are heading to a big city to explore. Your body is on overdrive!
Let's not forget to mention all the goodies we indulge in. I don't know about you but I always have a few extra glasses of wine as well as I'll order dessert and I'll probably have something yummy that I don't typically eat. This little change in diet can really through your immune system and your body into shock. Just think if your drinking more then your not sleeping as well. If your having more dessert then that means more sugar which means a lower immune system, if you're having some yummy foods then chances are they are a little more work for your digestive system to process. All of these little things add up and cause stress on our body.
Why does stress on our body cause...HERPES OUTBREAKS?!
Now, I want to do all these things when I'm on vacation and I most certainly want you to do all of these things when you are on vacation. You deserve it. What we don't want to come with us is an outbreak.
So here's what I do leading up to a trip to keep my body relaxed and as stress-free as possible.
Lysine
Up my dosage of Lysine about two days before vacation from 1000 mg to 3000 mg. This way there is extra lysine in my body and it will help keep the herpes virus under control. To learn more about lysine you can click here.
Sleep
Get caught up on sleep. Did you know you can actually get caught up on sleep before you are going to be low on sleep? Yep. If you know you are going to be low on sleep you can rest up a couple of nights before and it will actually help you when you are low on sleep. So I will make sure I get caught up, I'll even take little 45 minute catnaps if my body is craving it.
Antiviral
Take an antiviral. This is something I personally do and it works for me. You may or may not need to do this, it all depends on your body. But I will take 1 the day before departing, 1 the day of travel and depending on the type of travel like if it's to Europe then I take 1 then first day of vacation. Like I mentioned earlier, I know my body will get an outbreak on vacation if I don't take care and prep. This antiviral system works for me. You may not need to take it at all or you might need to take it daily while you are on vacation.
No Procrastination
No all-nighters of packing. Get packed and done by a reasonable hour. Just do it. I mean really think about it, being the last minute anything never really goes as planned. Make your packing list, lay out your clothes and get packed way before the moon comes out. I've gotten to the point where I actually take a half day the day before a trip. There is always something last minute and there is no reason to go into your trip tired, stressed and sick with an outbreak.
Here's the thing. We want to do all of the fun things on our trip. I want you to have an extra drink by the pool, or a gelato when in Rome or stay up all night dancing when you're in Vegas! I mean…#YOLO. So remember to get plenty of sleep, do your best to eat a balanced diet and if your body is feeling run down then up your lysine and take your daily antiviral. I've spent way too many trips having outbreaks and it's just not worth it.
What are your tips for travel? Do you have anything you recommend? DM me and let me know!
Xoxo,
Alexandra
Here's How I Can Support
Join our Life With Herpes Secret Society -
//subscription-membership-sp/
Herpes Outbreak Toolkit -
//herpes-outbreak-toolkit
Emergency Call -
//emergencycall/
Keep in touch with Alexandra Harbushka
www.lifewithherpes.com
www.instagram.com/alexandraharbushka
www.facebook.com/lifewithherpespodcast
www.pinterest.com/lifewithherpes
Join The Live With Herpes Community
If you are ready to join a community of people who are living with herpes also then you will want to join our slack group. It is FREE and it is a great way to find the support and comfort that you are looking for. Head on over to
www.lifewithherpes.com
and join our community. See you in there.
Ways You Can Support The Life With Herpes Show
If you enjoyed this episode as much as we enjoyed making it for you than  a subscribe would be a great idea.
Are you a YouTuber? Go ahead and subscribe to the show. It is a way to pay it forward to fellow friends who are living with herpes. When you subscribe it helps the algorithm in YouTube and it helps promote the show. If you are worried about your identity and your friends finding out you subscribed to a herpes channel then change your settings to private. And trust me I totally get it and would want to keep it a secret. Also, when you subscribe you will be notified in your inbox when a new episode is out or when Alexandra is live on Youtube Live.
Subscribe Here
Are you a podcast listener? Please give the Life With Herpes show a review. It is a way to pay it forward to fellow friends who are living with herpes. You can Subscribe, Rate and Review the show through your iTunes app or on the desktop. Seriously, it helps out a lot more than it is a hassle for you. You see, iTunes has an algorithm that organically promotes the show, so the more ratings and reviews the Life With Herpes Show receives then the higher it gets ranked. This is your way of paying it forward and helping someone find the show who really needs it. Oh, and you can totally use a fake name, so don't worry about a friend finding you in the iTunes review. Talking about herpes needs to be spread as far and wide as possible. You are totally a part of this movement so THANK YOU!   
Subscribe, Rate and Review
[podcast src="https://html5-player.libsyn.com/embed/episode/id/7125814/height/360/theme/standard-mini/autoplay/no/autonext/no/thumbnail/yes/preload/no/no_addthis/no/direction/forward/" height="360" width="100%" placement="bottom" theme="mini"]