102: Herpes Outbreak Essentials with Alexandra Harbushka
Life With Herpes
https://youtu.be/nbZVDinjiRI
Hi friends!  Ok, let's get right to it. Outbreaks suck!
I'm going to be vulnerable and tell you some of the thoughts that go through my head when I get an outbreak.  I think; why me, why now, urg… of course I got an outbreak, Oh it was because I ate this or did that, why did I sleep with him, what was I thinking, oh no did I give it to my husband, annoying I have to watch what I eat the next couple of days, oh man I have to cancel some of my plans and do some self-care and take care of myself. Any of this s**t sound familiar?
Yes, even though I've done a ton of self-work, forgiveness and totally moved on from that being diagnosed in July of 2011 it still can get to me when I have an outbreak. And you know what, that's ok!
Here is what I do when I get outbreaks.
Take the antiviral asap.
The sooner you get it in your system the sooner it can start working and start nipping it in the bud. A lot of times if I can get in within minutes of feeling an outbreak then I can even catch it and prevent the outbreak. Ideally, that's the key.
Boost my vitamin intake.
The key is to get your immune system up and running. When you get an outbreak your body is compromised and it's running on low or empty. So I make sure I have plenty of vitamins to keep my immune system strong. Besides my daily probiotic and my multivitamin, some other key vitamins are zinc, vitamin C, and lysine. The zinc is going to help boost your immune system (yay) and fights off invading bacteria and viruses. It also helps wounds heal faster. I take 1 capsule which is equal to 30mg.  Vitamin C is an ascorbic acid and it helps prevent the cells from free radicals. Also, this helps your immune system. I take 2 capsules to equal 1000 mg. The last very very very important supplement is I-Lysine! I've done a past episode on this and
I've linked it here
, but before I go into lysine I need to talk about arginine.
Here's where lysine and arginine come into play with herpes. The herpes virus needs arginine to breed. Without arginine, it can't multiply. It's basically fuel to the fire and it feeds the virus which makes it multiple and thus you get an outbreak. If you have an outbreak and continue to feed it with herpes lighter fluid then guess what happens. You guessed it, it keeps the outbreak active longer and can even cause more lesions. So not a good combo. On the contrary, lysine suffocates the herpes virus. The virus cannot replicate when lysine is present. So when using the lighter fluid analogy it's like a fire extinguisher to the virus.  Lysine and Arginine play a pretty big role in preventing your herpes outbreaks.
I have just discovered this miracle product that is made from olive leaves. The company is actually based out of Las Vegas so I've had the privilege to see some behind the scenes work. I apply this olive like past directly to the sore. I do it as many times as I can a day. So basically every time I go to the bathroom. Ladies, if you're like me and are about to worry about staining your panties, the stain does come out in the wash. I use a q-tip and apply it liberally to the area.
I rest up.
I do what I can to take things off of my calendar and take care of myself. This is personally the most difficult thing for me. What about you? But then I realize that this is how I most likely got in this position. So I force myself to take a nap, drink plenty of water and take an Epsom salt bath. The Epsom salts do wonders for your nervous system as well as help heal the sore. I even put some drops of essential oils in there too. I love an Epsom salt bath with lavender oil!!!!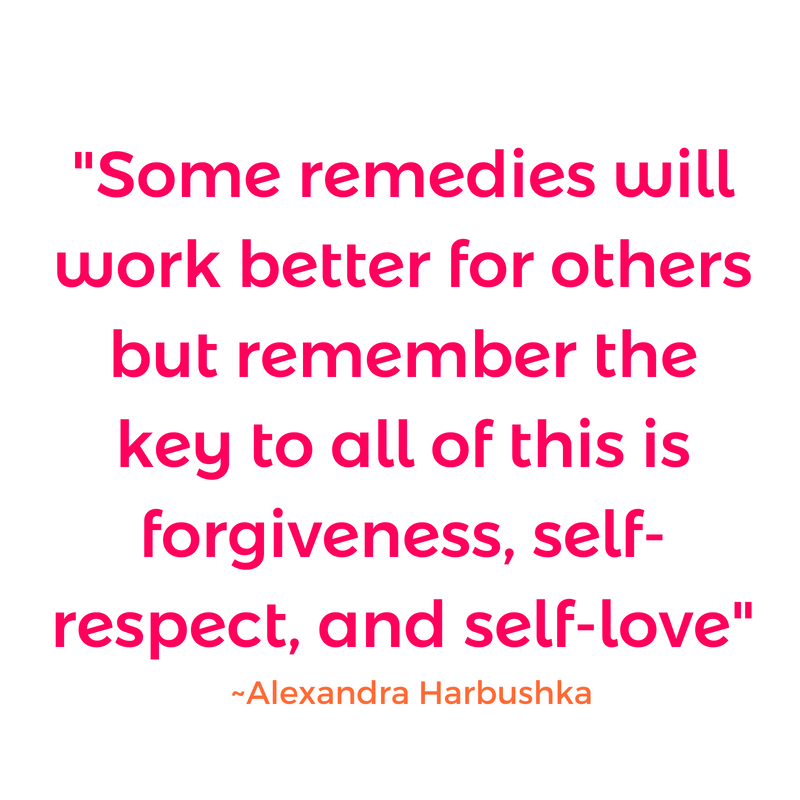 Let me know what works for you, I 'd love to learn if there is something else out there that you do when you get your outbreak. Somethings will work better for others and some things won't. Remember the key to all of this is forgiveness, self-respect and self-love.
See you soon!
Xoxox,
Alexandra
Here's How I Can Support
Join our monthly live Herpes Support Group -
www.lifewithherpes.com/supportgroup
Herpes Outbreak Toolkit -
//herpes-outbreak-toolkit
Emergency Call -
//emergencycall/
Keep in touch with Alexandra Harbushka
www.lifewithherpes.com
www.instagram.com/alexandraharbushka
www.facebook.com/lifewithherpespodcast
www.pinterest.com/lifewithherpes
Join The Live With Herpes Community
If you are ready to join a community of people who are living with herpes also then you will want to join our slack group. It is FREE and it is a great way to find the support and comfort that you are looking for. Head on over to
www.lifewithherpes.com
and join our community. You will receive a slack invitation as soon as you sign up. See you in there.
Ways You Can Support The Life With Herpes Show
If you enjoyed this episode as much as we enjoyed making it for you than  a subscribe would be a great idea.
Are you a YouTuber? Go ahead and subscribe to the show. It is a way to pay it forward to fellow friends who are living with herpes. When you subscribe it helps the algorithm in YouTube and it helps promote the show. If you are worried about your identity and your friends finding out you subscribed to a herpes channel then change your settings to private. And trust me I totally get it and would want to keep it a secret. Also, when you subscribe you will be notified in your inbox when a new episode is out or when Alexandra is live on Youtube Live.
Subscribe Here
Are you a podcast listener? Please give the Life With Herpes show a review. It is a way to pay it forward to fellow friends who are living with herpes. You can Subscribe, Rate and Review the show through your iTunes app or on the desktop. Seriously, it helps out a lot more than it is a hassle for you. You see, iTunes has an algorithm that organically promotes the show, so the more ratings and reviews the Life With Herpes Show receives then the higher it gets ranked. This is your way of paying it forward and helping someone find the show who really needs it. Oh, and you can totally use a fake name, so don't worry about a friend finding you in the iTunes review. Talking about herpes needs to be spread as far and wide as possible. You are totally a part of this movement so THANK YOU!   
Subscribe, Rate and Review
[podcast src="https://html5-player.libsyn.com/embed/episode/id/6919991/height/50/width/500/theme/standard-mini/autonext/no/thumbnail/yes/autoplay/no/preload/no/no_addthis/no/direction/forward/" height="50" width="500" placement="bottom" theme="mini"]