098: Bare Naked Bravery, with Emily Ann Peterson
Life With Herpes
https://youtu.be/zjdAdBj1f5Y
Becoming Courageous
Welcome to this edition of Life With Herpes. Emily Ann Peterson is my business  #BFF and she is here to talk about bare naked bravery.
Emily Ann is a singer-songwriter, author & creative consultant. She inspires courageous expression for people who crave all things beautiful, strong, sacred, creative and connected.
Is Emily Ann's book and her story about her experience of surviving an eating disorder, starting a musical career during the recession and the neurodegenerative disorder in her right hand that completely altered her life as a cellist and musician. We dive deep into those topics and more on today's Life With Herpes!
In 2013 Emily Ann's life changed...again. Everything came to a screeching halt when she received a life-changing medical diagnosis: she had a neurodegenerative disorder in her right hand. At the time she was a full-time cellist; her cello was her second life and her voice in the world. It was her identity.
Having overcome adversity before in the form of an eating disorder and a musical career, she dove headfirst into her diagnosis and the life-changing experiences it brought. Those experiences and that attitude brought her
Bare Naked Bravery
, her first book.
Bravery Is A Part Of Life
She wrote her book because she knew other people out there would be going through or know someone who is going through a similar experience. There was no book about how to be brave nor a book with the tools you need to be brave, so she wrote it. Emily Ann shares there are a lot of instances in which we find ourselves needing to be brave and we don't know how.
Without a book or how-to manual, it can be even more terrifying. We can feel like we are all alone in our experience, and we'll have to pioneer it on our own. So even if there's just general advice we can receive in those moments it will be helpful.
For her the medical diagnosis she received was even more of an isolating experience because people with her disorder usually aren't diagnosed until later in life, and it usually doesn't ruin their careers. She was younger than most and her career as a cellist seemed to be over.
It also resulted in a complete identity reconstruction, something you may experience or have already experienced if you received a herpes diagnosis. If you have just been diagnosed with herpes and you identify with the stigma then you may have to go through something similar. And that is very tricky.
Bravery Isn't Perfection
Her reconstruction was a process. She got curious about what bravery is: everyone talks about courage and strength but the definitions are either conflicting or inadequate. And the books she was reading about fear also didn't help much. They talked about lessening fear or eliminating it, but she came to see fear as a tool of bravery. It's not something we need to avoid or deny or ignore, it's something we need to use to move forward with the right decisions for ourselves.
On today's Life With Herpes, Emily Ann asked me how I used fear or experienced fear when I was diagnosed with herpes. I explain that at first I went into hermit mode. It was the Friday before the 4th of July so I had a three day weekend, and I remember being a hermit. I went to yoga, I cried. I went home, I cried. I went to yoga, I cried.
I wasn't diagnosed with fear, I was a deer in headlights. I was in a state of shock.
She explains how she utilized her fear: she went to the mountains to "creatively sulk". But she also used her fear to get really curious: she wanted to figure out what her diagnosis was actually and to figure out what bravery actually meant for her. She also got very intentional about the people she was hanging out with - our support systems can either be toxic to us or they can support us and help us.
How you utilize your fear depends on your personality type. If you are introverted you may go into hermit mode. If you are extroverted you have to find trusted people to help you process and you can go into research mode. The people you share and process with must be people you can be vulnerable with and people who will love you no matter what.
It's important to recognize how you respond to your diagnosis is going to be different than someone else. How you face your fears and lean into bravery will be your own experience and your own process. So consider your diagnosis an invitation to get to know yourself better. The more you get to know yourself the easier it will become to be brave.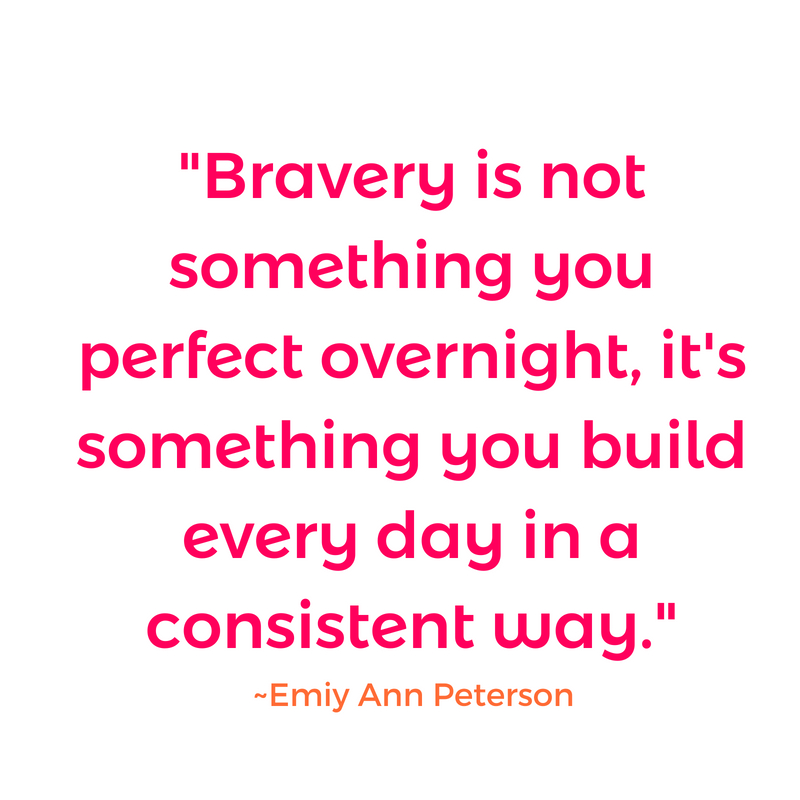 Reach Out To Emily Ann
Emily Ann Peterson's website
Emily Ann's Bood…
Bare Naked Bravery
Emily Ann Peterson on Twitter
Emily Ann Peterson on Facebook
Emily Ann Peterson on Instagram
You Totally Want this--->
School of Advanced Bravery
Here's How I Can Help
Join our monthly live Herpes Support Group -
www.lifewithherpes.com/supportgroup
Herpes Outbreak Toolkit -
//herpes-outbreak-toolkit
Emergency Call -
//emergencycall/
Keep in touch with Alexandra Harbushka
www.lifewithherpes.com
www.instagram.com/alexandraharbushka
www.facebook.com/lifewithherpespodcast
www.pinterest.com/lifewithherpes
Join The Live With Herpes Community
If you are ready to join a community of people who are living with herpes also then you will want to join our slack group. It is FREE and it is a great way to find the support and comfort that you are looking for. Head on over to
www.lifewithherpes.com
and join our community. You will receive a slack invitation as soon as you sign up. See you in there.
Ways You Can Support The Life With Herpes Show
If you enjoyed this episode as much as we enjoyed making it for you than  a subscribe would be a great idea.
Are you a YouTuber? Go ahead and subscribe to the show. It is a way to pay it forward to fellow friends who are living with herpes. When you subscribe it helps the algorithm in YouTube and it helps promote the show. If you are worried about your identity and your friends finding out you subscribed to a herpes channel then change your settings to private. And trust me I totally get it and would want to keep it a secret. Also, when you subscribe you will be notified in your inbox when a new episode is out or when Alexandra is live on Youtube Live.
Subscribe Here
Are you a podcast listener? Please give the Life With Herpes show a review. It is a way to pay it forward to fellow friends who are living with herpes. You can Subscribe, Rate and Review the show through your iTunes app or on the desktop. Seriously, it helps out a lot more than it is a hassle for you. You see, iTunes has an algorithm that organically promotes the show, so the more ratings and reviews the Life With Herpes Show receives then the higher it gets ranked. This is your way of paying it forward and helping someone find the show who really needs it. Oh, and you can totally use a fake name, so don't worry about a friend finding you in the iTunes review. Talking about herpes needs to be spread as far and wide as possible. You are totally a part of this movement so THANK YOU!   
Subscribe, Rate and Review
[podcast src="https://html5-player.libsyn.com/embed/episode/id/6728105/height/50/width/500/theme/standard-mini/autonext/no/thumbnail/yes/autoplay/no/preload/no/no_addthis/no/direction/forward/" height="50" width="500" placement="bottom" theme="mini"]