065: #AskAlexandra Does herpes move?
Ask, Answer and Get The Facts About Herpes
[video_player type="youtube" style="1" dimensions="560x315" width="560" height="315" align="center" margin_top="0" margin_bottom="20" ipad_color="black"]aHR0cHM6Ly95b3V0dS5iZS9sYmhIOWRZNkVtMA==[/video_player]
Life With Herpes
Welcome to today's episode of Life With Herpes. As always, I am thrilled to be here with you and thank you for joining us today. I love the #AskAlexandra episodes because it allows me to hear from you, connect with you and of course be a resource for you. Today's question comes from Brian from Cincinnati. Thanks Brian for submitting your question. His question is, "does herpes move?" Ok so yes it does. In Order to answer this question, I break down the two herpes viruses. I also did a podcast on HSV 1 & HSV2
click here
to read and listen for more details.
So back to can herpes move. Herpes can be passed from oral to genital and genital to oral. This happens through oral sex and vaginal or anal sex. For example, if person A has genital herpes he or she can pass it genitally to person B by having vaginal or anal sex. Or person B can become infected by person A if there is oral sex involved. Make sense?
Then as time continues your outbreak can travel. What this means is the virus lies dormant on the nervous system and when it wants to pop up and cause a blister it will pop up somewhere on the nerve. So for example, if your first outbreak was on your vaginal lips but years later it can move to your buttocks. The virus is going to stay around in the same area...in other words the apple doesn't fall far from the tree.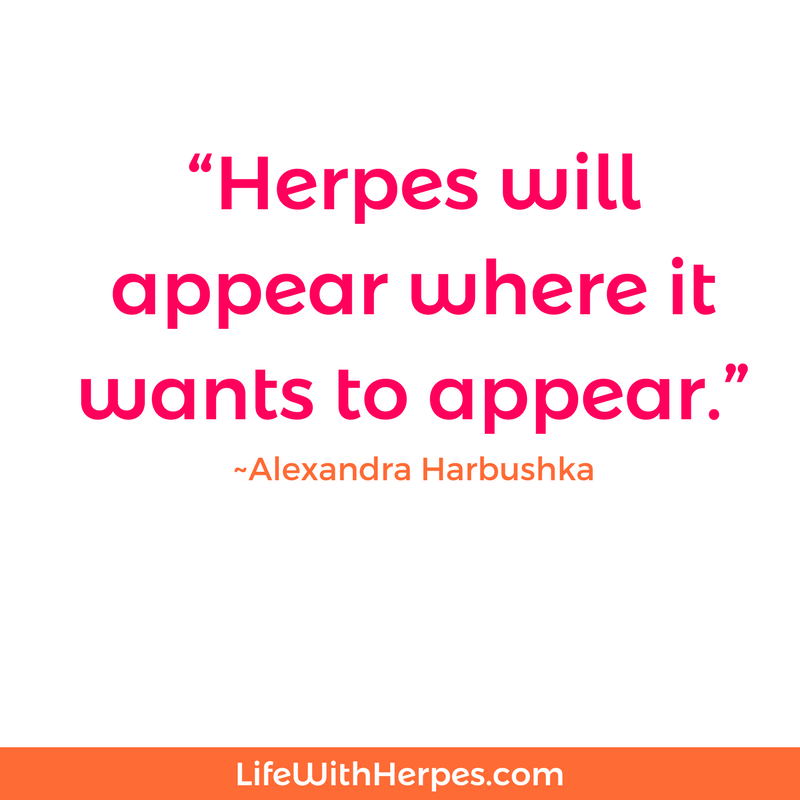 Keep in touch with Alexandra Harbushka
www.lifewithherpes.com
www.instagram.com/alexandraharbushka
www.facebook.com/lifewithherpespodcast
www.pinterest.com/lifewithherpes
Join the community
If you are ready to join a community of people who are living with herpes also then you will want to join our slack group. It is FREE and it is a great way to find the support and comfort that you are looking for. Head on over to
www.lifewithherpes.com
and join our community. You will receive a slack invitation as soon as you sign up. See you in there.
Ways you can support the Life With Herpes show
And if you enjoyed listening to this episode as much as we enjoyed making it for you, please give the Life With Herpes show a review. It is a way to pay it forward to fellow friends who are living with herpes. You can Subscribe, Rate and Review the show through your iTunes app or on the desktop. Seriously, it helps out a lot more than it is a hassle for you. You see, iTunes has an algorithm that organically promotes the show, so the more ratings, and reviews the Life With Herpes Show receives then the higher it gets ranked. This is your way of paying it forward and helping someone find the show who really needs it. Oh, and you can totally use a fake name, so don't worry about a friend finding you on the iTunes review. Talking about herpes needs to be spread as far and wide as possible. You are totally a part of this movement so THANK YOU!
Subscribe, Rate and Review
More Episode Resources
[podcast src="https://html5-player.libsyn.com/embed/episode/id/5874745/height/360/width/450/theme/standard-mini/autonext/no/thumbnail/yes/autoplay/no/preload/no/no_addthis/no/direction/forward/" height="360" width="450" placement="bottom" theme="mini"]