055: What I Learned About Herpes While in France with Alexandra Harbushka
What the French really think about herpes.
[podcast src="https://html5-player.libsyn.com/embed/episode/id/5827941/height/360/width/450/theme/standard-mini/autonext/no/thumbnail/yes/autoplay/no/preload/no/no_addthis/no/direction/forward/" height="360" width="450"]
[video_player type="youtube" style="1" dimensions="560x315" width="560" height="315" align="center" margin_top="0" margin_bottom="20" ipad_color="black"]aHR0cHM6Ly95b3V0dS5iZS94SG1iYWF0ZGxkYw==[/video_player]
Life With Herpes Podcast
Welcome to episode 55 of Life With Herpes. I'm excited to spend this time with you, thank you for being here for today's show.
The process of creating Life With Herpes, launching this podcast and just generally having herpes has been an experience for me, and experiencing how the French perceive herpes has added new layers and understanding to my experience.
I'll go into more details and share what I learned about herpes while in France when you join me on episode 55.
More About Life With Herpes
Throughout my journey with herpes I've learned we each have our own perception of what it is. Mine is different than yours, and each of ours is different than other people's perceptions.
Recently I was in Paris with my friend Marisa and people were asking us how we could take time off of work and travel. Marisa was in Paris for a month and I was there for about 8 days. She explained what she does and I told people I talk about herpes.
Now when I tell people what I do, I always assess the situation first. If they are my age or I meet them in a bar or another low-key setting I tell them I'm a herpes advocate and I talk about it all day long and work to break the stigma around it.
But if I'm at church I wouldn't say that! I would say I am a sexual health advocate. I change it based on the setting because it can shock some people.
So in France I knew there would be a language barrier and I assumed people would be shocked. So I told people I have a company and a podcast called Life With Herpes, and then waited for their response.
They'd just say "Oh" and then point to their mouth and then their genitalia saying "here or here?" I'd say both, but specifically down there (and I'd point to the genital region).
And then I would ask what is it like in France? Do you care? Do you not care? Is it a big deal? They'd say yeah we have it, it is what it is.
Then I'd ask them about oral herpes and they'd say yeah, everyone has it and it's no big deal. Then I'd say what about down there? and I'd point to the genital area. Again, they'd say it is what it is, it's no big deal and no one really talks about it. I got that answer a couple of times: it is what it is and it's not a big deal.
Now can you imagine if you changed your mind and you thought of herpes like the French do? What if you could change your perception of herpes to be like them and simply say "Yeah, I have it. It is what it is and it's not a big deal."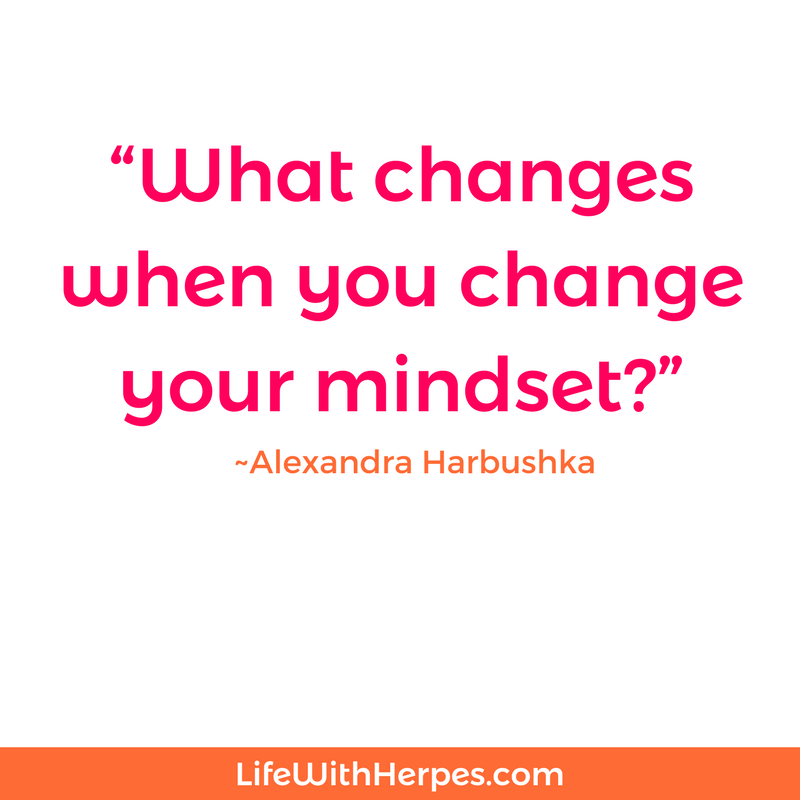 Think about how that would change you: would you still feel guilty or ashamed? No. Would you still be annoyed by an outbreak? Sure. Would the conversation telling someone you have herpes still be something you wouldn't want to do? Yes. What changes in your life when you change your mindset and think it's not a big deal?
I found it so fascinating that here in the U.S. we are shocked and scarred by having herpes. We think our lives are over and we are lepers when we are diagnosed with it - it's the complete opposite of what I experienced in France. I travel quite a bit so I'll keep tabs on how people respond in other parts of the world, and I'll let you know what I find!
Thanks for listening and for being here with me, I hope you enjoy episode 55 of Life With Herpes.
Keep in touch with Alexandra Harbushka
www.lifewithherpes.com
www.instagram.com/alexandraharbushka
(ps. There are some fun photos from my Paris trip on there)
www.facebook.com/lifewithherpespodcast
www.pinterest.com/lifewithherpes
Join the community
If you are ready to join a community of people who are living with herpes also then you will want to join our slack group. It is FREE and it is a great way to find the support and comfort that you are looking for. Head on over to
www.lifewithherpes.com
and join our community. You will receive a slack invitation as soon as you sign up. See you in there.
Ways you can support the Life With Herpes show
And if you enjoyed listening to this episode as much as we enjoyed making it for you, please give the Life With Herpes show a review. It is a way to pay it forward to fellow friends who are living with herpes. You can Subscribe, Rate and Review the show through your iTunes app or on the desktop. Seriously, it helps out a lot more than it is a hassle for you. You see, iTunes has an algorithm that organically promotes the show, so the more ratings, and reviews the Life With Herpes Show receives then the higher it gets ranked. This is your way of paying it forward and helping someone find the show who really needs it. Oh, and you can totally use a fake name, so don't worry about a friend finding you on the iTunes review. Talking about herpes needs to be spread as far and wide as possible. You are totally a part of this movement so THANK YOU!
Subscribe, Rate and Review
More Episode Resources