050:  #AskAlexandra How Much Protection Do Condoms Give?
Ask, Answer and Get the Facts about Herpes
[podcast src="https://html5-player.libsyn.com/embed/episode/id/5788329/height/360/width/450/theme/standard-mini/autonext/no/thumbnail/yes/autoplay/no/preload/no/no_addthis/no/direction/forward/" height="360" width="450"]
Life With Herpes Podcast
Welcome to episode 50 of Life With Herpes and an #AskAlexandra show! Thank you for being here, I'm excited to answer Samantha from Baltimore, Maryland's question. Samantha wrote in to ask how much protection do condoms give?
This is another great question, thank you! To send in your own great question like Samantha's, use the hashtag #AskAlexandra in the private Slack group. If you aren't in the Slack group yet you can send in your question on the Life With Herpes home page. Just look for the Ask Alexandra button, click it and fill out the form with your question.
Now back to Samantha's question about how much protection condoms provide, I've talked about this briefly in a few other episodes. Today I'll give a more in-depth answer on episode 50 of Life With Herpes.
More About Life With Herpes
This is one of the biggest myths and misconceptions out there, we've been educated and taught that if you use a condom everything will be fine.
The truth is yes they help with protection so use them. But if you think about a condom and where it goes - on the man's penis - there are other parts of his genitalia that are not covered. So, using vaginal sex as an example, when you are having sex there are other areas that touch. The man's scrotum, the woman's labia are two of these areas that touch and are not covered and protected by condoms.
And that is why I am so glad Samantha asked this. If a woman has an outbreak on her labia (her "lips"), they can still come in contact with a man's penis. Condoms don't go all the way up so those areas can touch, and the virus can be spread.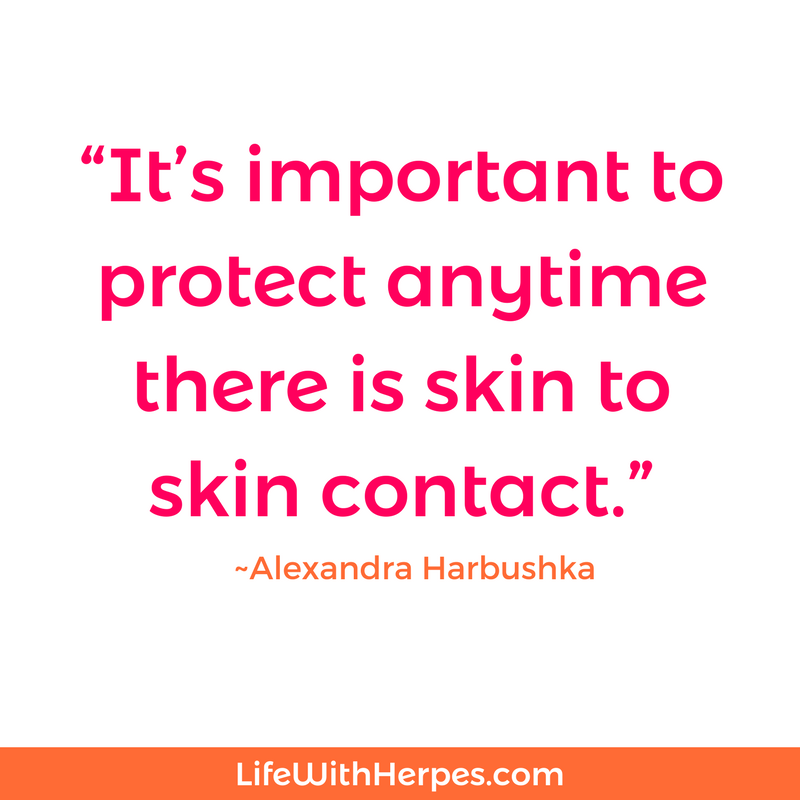 Here's the thing: you should use a condom, especially if you are in a non-monogamous relationship. They are effective, but there are areas in our genital region that are not covered during sex. It's also important to protect during foreplay and after sex: anytime there is skin to skin contact.
If you want to be sure you are really safe, use a condom during foreplay and put on underwear after sex. Doing all of this is the best protection possible. Remember, herpes is passed through skin to skin contact not just through sexual intercourse.
I'll add to that: to ensure you are and your partner are safe is to talk about it before you have sex. Do everything possible, including using condoms.
Thank you, Samantha, I appreciate you asking this! It's a great question, and something we all need to know. Personally, I hear it all the time so I'm glad you sent in this question for episode 50 of Life With Herpes.
Episode Resources