049: What's It Like To Tell Someone You Have Herpes? With Alexandra Harbushka
Opening up and telling your dirty little secret
[podcast src="https://html5-player.libsyn.com/embed/episode/id/5788313/height/360/width/450/theme/standard-mini/autonext/no/thumbnail/yes/autoplay/no/preload/no/no_addthis/no/direction/forward/" height="360" width="450"]
Life With Herpes Podcast
I am recording this on the first day of fall! And it was actually a lot like fall in San Diego today: it was chilly, and rainy. But whatever the weather is like where you are when you listen to this, thank you for listening and for being part of Life With Herpes.
Today's topic has come up recently in our private Slack group so I wanted to address it on the show. And that topic is: what is it like to tell people you have herpes, everyone from someone you are dating to your best friend to a potential date.
So what is it like to tell someone you have herpes? Join me for episode 49 of Life With Herpes to find out!
More About Life With Herpes
Here's the truth: the first time you tell someone you have herpes it will be (or was) terrifying. Do you know why? Because of the stigma attached to herpes, that's the only reason.
If you were going to tell someone you were allergic to grass it wouldn't be a big deal! You'd say: "Hey Jane, I'm allergic to grass so I won't be going in your backyard." Grass doesn't have a sexual stigma so it's not a big deal. People don't think you are dirty, or a whore or you've slept with dirty, greasy people - but herpes has that stigma attached to it.
So that makes it f**king scary.
Before telling the world I have herpes via this podcast, I told selective people. Before telling someone I asked myself: why do they need to know? A few of my closest friends knew, when I was diagnosed I needed someone to confide in so I told them. They greeted me with hugs and wine, and they let me cry. There was no judgment: they only wanted to help me.
That was my experience telling friends, but I only told select people. My mindset was I have this, I'm not going to be a victim to it. I'm going to deal and move through this.
Six years later it's no big deal.
But I will say when I started this podcast and made the announcement to the world that I have herpes it was a little scary! Becaue it was talkign to someone I didn't know: you didn't know me and I didn't know you. Was I nervous that people would be negative and call me names and shun me? Or that I'd get horrible emails calling me names - I was nervous those things would happen!
When I recorded my first podcast, I was scared. It took me awhile to be ready: I procrastinated in every way possible! In fact, the first episode was only about 20 minutes but it took me 3-4 hours to record it.
So I understand what you are going through, I do! Whether you've told anyone yet or not, there will be a point when you have to do it. It may be at the doctor or the dentist, but what I hear from most of you is you are worried about how to tell your potential romantic or potential sexual partners.
To help you, here are some recommendations I have put together. It's scary, but remember our grass analogy and remember it is about our mindset.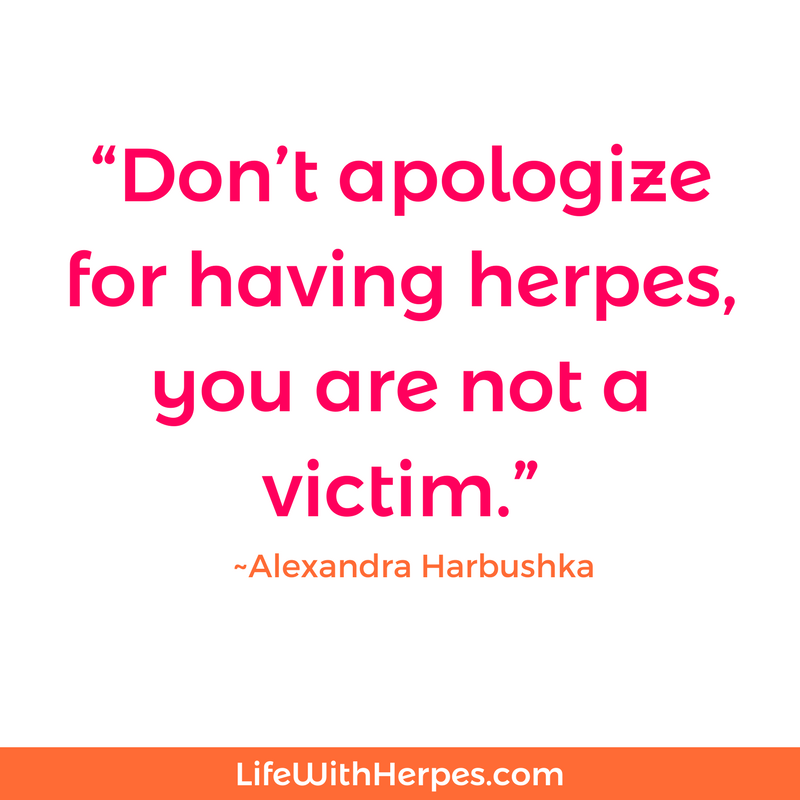 I recommend you practice on your dog or your cat. They love you no matter what. And if you don't have a dog or a cat, practice in the mirror. Get out everything you want to get out, say it all. If you want to cry, cry. If you want to tell the entire story, tell it. If you want to talk about how horrible your ex was then do it.
Get it all out there. Then hone it in. Think of it like you're sending an email: you wouldn't send all of that detail, would you? No, so shorten it and tighten it up. Keep it short and sweet. Keep it simple: make it just a paragraph in length.
Once you've practiced, and you get it honed down then tell the person. Keep it short and sweet when you do tell them. After you tell them, just listen.
Listen to what he or she has to say. They might be like oh okay, my friend has it. Or oh there are so many people who have it, I get it. Thanks for telling me. Or they may be nasty and say ew I don't want to be with you, you're dirty and disgusting. That really may happen.
But I believe if you come from your heart and you show you are being honest, and you are scared to tell this person because you like them, then that compassion can only shine through.
So listen, answer any questions they have and make it about them. Do they have questions about transmitting it, what it looks like, prevention, etc. Answer those questions and be prepared to give them a resource (send them to this website and this podcast!) - if they ask for one.
Now here's the key - promise me you won't have this conversation naked! This is not a conversation to have when you are about ready to have sex. Don't start this talk after you've been making out and your clothes are off. Don't get to that point until you have this conversation - make sure you have talked about this beforehand.
If you want to hear an example of what to do versus what not to do then listen in, I highlight both for you so you can be as prepared as possible. Hear those examples and then have your conversation - please let me know how it goes! I want to hear from you after you listen to episode 49 of Life With Herpes.
Episode Resources