048: #askalexandra If My STD Test Comes Back Negative, Am I In The Clear?
Ask, Answer and Get the Facts About Herpes
[podcast src="https://html5-player.libsyn.com/embed/episode/id/5788278/height/360/width/450/theme/standard-mini/autonext/no/thumbnail/yes/autoplay/no/preload/no/no_addthis/no/direction/forward/" height="360" width="450"] 
[video_player type="youtube" style="1" dimensions="560x315" width="560" height="315" align="center" margin_top="0" margin_bottom="20" ipad_color="black"]aHR0cHM6Ly95b3V0dS5iZS80TnY1b0FXaENTQQ==[/video_player]
Life With Herpes Podcast
I'm grateful to be here with you and I am grateful to have herpes so I can talk about it with you and live a beautiful life together! Together we are getting rid of the negative stigma attached to herpes, so thank you for being a part of it with me on episode 48 of Life With Herpes.
Today I want to talk about something I heard a lot when I was dating, and I still overhear a common misconception: getting a negative test result from an STD test means you are okay and don't have herpes. Find out why this is a myth on today's Life With Herpes.
More About Life With Herpes
We've all been taught in sex ed and everywhere else to get tested for STDs. While it's super important to have this done, there's one problem with it: the guidelines from the CDC don't recommend testing for the herpes virus. So typically it's not included in a routine STD panel.
Now what does that mean? They are not checking for herpes.
They are testing for chlamydia, gonorrhea, HIV, HPV in women (genital warts - human papillomavirus). They are doing bacterial investigation when they get a swab, and if they take blood to test it then it is typically to test for HIV.
So that means unless you ask to be tested for herpes you won't be - and neither will your partner! You must specifically ask for a herpes test.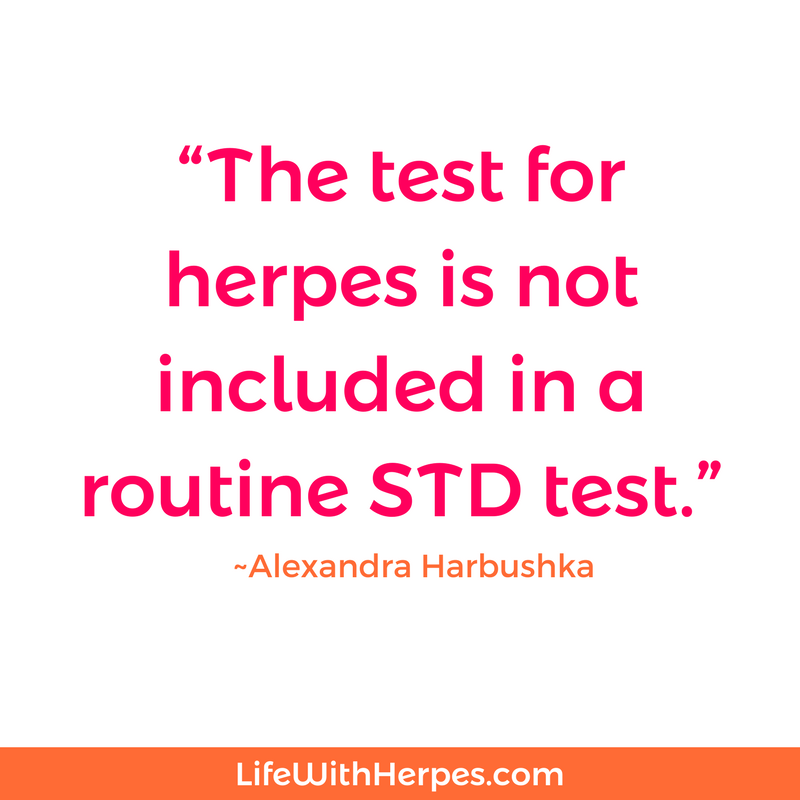 Now we've talked about how to test for the herpes virus on previous episodes, and one of those ways is through a blood test. But remember the virus won't show up in your blood unless you have the virus and have had an outbreak.
I think there are a few reasons why the CDC doesn't require it in STD tests, the first being the emotional fallout of finding out you have herpes can be far more devastating then the actual virus itself. I call BS on this. Another reason might be because it's generally easy to know if you have herpes because you have an outbreak shortly after contracting it, whereas other STDs can be entirely asymptomatic.
I also wanted to talk about this because it is something you need to be aware of, and you need to be certain you've had the proper testing done. Tell your friends, and obviously tell the person you are sleeping with about this fact. In fact, make sure everyone you know knows they have to ask for a herpes test in addition to the normal STD testing.
Do your due diligence. Be sure to find out if your partner was ever tested beyond just the typical STD test.
I hope that information is helpful and useful for you. Thanks for being here and for listening to episode 48 of Life With Herpes.
Episode Resources