041: Why Herpes Gets Rid of The People Who Are Wasting Your Time with Alexandra Harbushka
Self-Love, Herpes and Rejection
[podcast src="https://html5-player.libsyn.com/embed/episode/id/5688999/height/360/width/450/theme/standard-mini/autonext/no/thumbnail/yes/autoplay/no/preload/no/no_addthis/no/direction/forward/" height="360" width="450"]
[video_player type="youtube" style="1" dimensions="560x315" width="560" height="315" align="center" margin_top="0" margin_bottom="20" ipad_color="black"]aHR0cHM6Ly95b3V0dS5iZS9tN25Wc3ZMUjVYRQ==[/video_player]
Life With Herpes Podcast
Welcome to episode 41 of Life With Herpes, and thank you for being here with me! Today we're talking about why herpes gets rid of the people who are wasting your time.
For me one of the biggest fears I had was whether I would find love again after being diagnosed with herpes. And I can tell you that the answer is yes I have, and I know you will too.
On today's show I'm going to share how I now know that having herpes helped me get rid of the potential partners who weren't going to last, and why it will do the same for you. Join me as we talk in-depth about it on episode 41 of Life With Herpes.
More About Life With Herpes
I have heard and do hear from many of you in our Slack group about your experiences talking with your potential intimate partners and disclosing that you have herpes. And I also hear from many of you how disappointed you are that when you tell your potential partners you have herpes, some of those partners don't call you back.
The reality is that this is good news. Yes the rejection hurts but know this: you're weeding out the people who are a waste of your time. I can tell you that because it is exactly
what happened for me. I discovered that unless someone I was dating told me that having herpes didn't matter, then they weren't the right person for me.
If this seems hard to imagine for you I'd suggest starting to practice on your own; change your mindset from "Oh no I have herpes!" to "Yeah, I have herpes. So what?"
That's one of the reasons I created this podcast: you are here to learn more about having herpes and living your life, the more knowledge you have then the more powerful you are.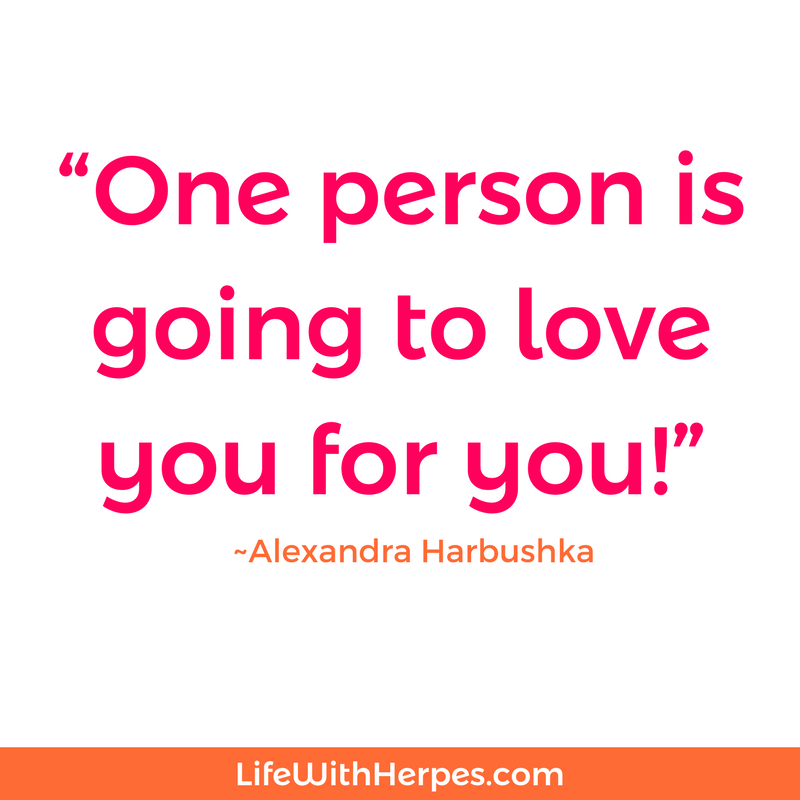 So change your mindset from thinking no one will want to go out with you because you have herpes! Think about it: you don't want to go out with everyone. Why would you? Dating anyone and everyone is exhausting and not worth it. Besides,  not everyone is right for you.
Personally, in the past I would use herpes as a scapegoat or a way to tell if the guy was really interested. If I told him I had herpes and he left, then I thought good because he's not worth my time.
The truth is if someone isn't going to stand by you because of a simple thing like a virus, what will they do when real sh*t goes down? If they are out the door because you have herpes, then they weren't going to last through the tough times. And we all deserve someone who will be with us through good and bad.
So when you get to the point of being secure with having herpes, then the right person will come into your life. Again, I can tell you this because it is true for me. My fiancee does not care that I have herpes, and it has never been an issue in our relationship.
So look at herpes as an opportunity to weed out the people who weren't right for you and to find the person who is going to stay with you no matter what. I know it stings and it hurts when someone leaves after you tell them you have herpes. You probably feel rejected, but remember one person is going to love you for YOU!
If you want support along the way please join us in the free Slack group. When you're in the group and tell me if you think having herpes has gotten rid of the people who weren't right for you. Let me know after you listen to episode 41 of Life With Herpes.
Episode Resources