089: Herpes Rejection with Alexandra Harbushka
6 Ways To Handle It 
https://youtu.be/UwBdPAWRvFU
Life With Herpes
Nobody likes rejection. In fact, I believe that rejection is what holds most of us back from reaching for the stars, following our dreams, quitting that job, asking that hottie out, being who you are and absolutely loving who you are. I would never want to repeat those jr. high days of wondering if all of a sudden you are not going to be asked to sit at the cool kid table. Or if you missed the memo that everyone was supposed to wear a ponytail and you decided to wear your hair down. I still think the rejection in the 6th grade is way worse than the rejection of herpes but I can see where they come in close to the finish line. Lol.  Did you ever have that hard of a time in the 6th grade?
Anyway, back to today and dealing with the fear of having herpes. The fear is the perception that someone will judge you or miss treat you or reject you because you have herpes. Well, I say let them. The truth is EVERYONE is being judged and as hard is it is to admit it, you are judging people too. Maybe you use this as an opportunity to self reflect...just saying. But back to herpes and rejection, I understand it hurts, I understand that it is F*%king scary and at the end of the day all we want is to be loved unconditionally and be happy. Here are 5 ways you can handle the rejection:
1. You Can't Predict The Outcome 
You are only in control of your feelings and thoughts you can not be in control of others.
2. Rejection Happens Regardless Of Having Herpes
Really herpes has nothing to do with it. Rejection is a part of life. We like to use the fact that we have herpes as a scapegoat but it
3. Divine Intervention
Maybe this is God's way (aka the universe or whatever you believe in) way of weeding out the bad and making you available for the right one.
4. Feel Your Emotions
Once the rejection happens let yourself feel the rejection. Look at what other emotions come up. Maybe anger? Maybe sadness? Maybe resentment? Maybe you feel like a victim. Regardless feel your emotions. By ignoring them it will only make matters worse and the feelings will continue to fester and eventually they explode.
5. Give Yourself A Pat On The Back 
Realize that you stepped out of your comfort zone and took a chance. Hey, it's better than sitting on the sofa crying and feeling bad for yourself.
6. Ask yourself, What did I learn?
You always will learn something and there is always a lesson. Yes, sometimes it's positive and sometimes it's negative but regardless you learned from putting yourself out there.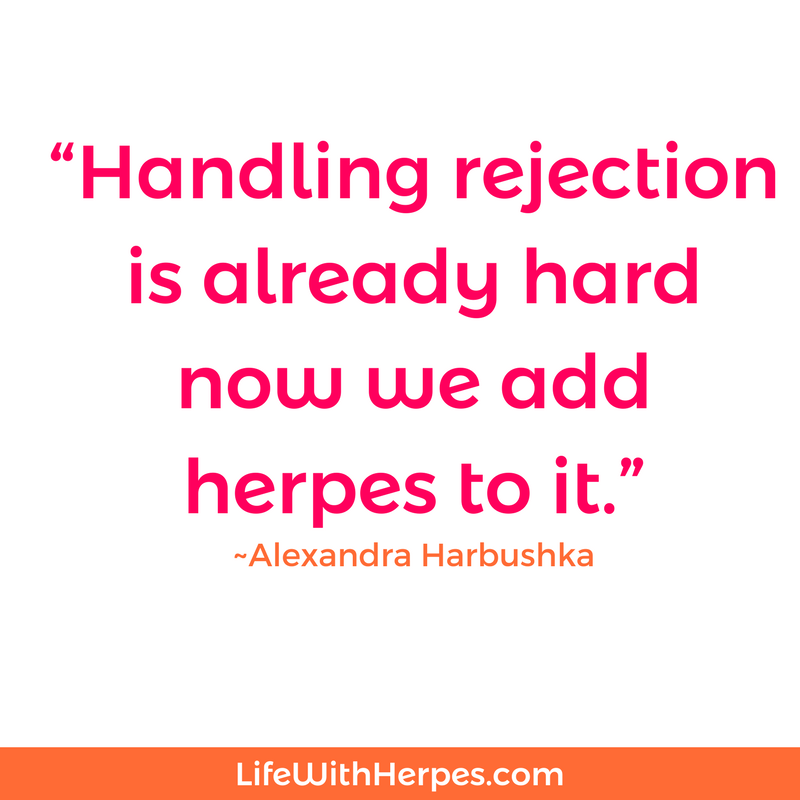 Here's How I Can Help
Join our monthly live Herpes Support Group -
www.lifewithherpes.com/supportgroup
Herpes Outbreak Toolkit -
//herpes-outbreak-toolkit
Emergency Call -
//emergencycall/
Keep in touch with Alexandra Harbushka
www.lifewithherpes.com
www.instagram.com/alexandraharbushka
www.facebook.com/lifewithherpespodcast
www.pinterest.com/lifewithherpes
Join The Live With Herpes Community
If you are ready to join a community of people who are living with herpes also then you will want to join our slack group. It is FREE and it is a great way to find the support and comfort that you are looking for. Head on over to
www.lifewithherpes.com
and join our community. You will receive a slack invitation as soon as you sign up. See you in there.
Ways You Can Support The Life With Herpes Show
If you enjoyed this episode as much as we enjoyed making it for you than  a subscribe would be a great idea.
Are you a YouTuber? Go ahead and subscribe to the show. It is a way to pay it forward to fellow friends who are living with herpes. When you subscribe it helps the algorithm in YouTube and it helps promote the show. If you are worried about your identity and your friends finding out you subscribed to a herpes channel then change your settings to private. And trust me I totally get it and would want to keep it a secret. Also, when you subscribe you will be notified in your inbox when a new episode is out or when Alexandra is live on Youtube Live.
Subscribe Here
Are you a podcast listener? Please give the Life With Herpes show a review. It is a way to pay it forward to fellow friends who are living with herpes. You can Subscribe, Rate and Review the show through your iTunes app or on the desktop. Seriously, it helps out a lot more than it is a hassle for you. You see, iTunes has an algorithm that organically promotes the show, so the more ratings and reviews the Life With Herpes Show receives then the higher it gets ranked. This is your way of paying it forward and helping someone find the show who really needs it. Oh, and you can totally use a fake name, so don't worry about a friend finding you in the iTunes review. Talking about herpes needs to be spread as far and wide as possible. You are totally a part of this movement so THANK YOU!   
Subscribe, Rate and Review
[podcast src="https://html5-player.libsyn.com/embed/episode/id/6501870/height/50/width/500/theme/standard/autonext/no/thumbnail/yes/autoplay/no/preload/no/no_addthis/no/direction/forward/" height="50" width="500" placement="bottom" theme="standard"]